A Timeline Of Kanye West And Taylor Swift's Feud
The timeline of Kanye West and Taylor Swift's feud starts at the apex of a transitional period for both artists. In 2009, West was still grieving the tragic 2007 death of his mother, and his influential 2008 album, "808s & Heartbreak," saw the rapper declaring that "hip-hop is over" for him. He had created "a whole new musical genre" with which to express himself more succinctly (via The Sydney Morning Herald). 
Meanwhile, Taylor Swift was attempting to break new ground for herself as a mainstream pop artist with her hybrid country-pop album, "Fearless." The two stars seemed to be at completely opposite ends of the musical spectrum, and yet, their respective career trajectories were set to collide and explode into an ongoing feud that would last longer than anyone would expect. Though West is now known for the sort of erratic behavior he exhibited with Swift, 2009 marked the first instance that friends, fans, and music industry professionals began to express concern for him publicly. In 2017, West was diagnosed with bipolar disorder, and, as suggested by ex-wife Kim Kardashian in an Instagram story, the condition can be "complicated and painful to understand" (via Variety). 
Whether or not West's mental ill-health has had an impact on his fraught relationship with Swift is up for debate. But as this timeline shows, the beef doesn't look to be fading anytime soon.
If you or someone you know is struggling with mental health, please contact the Crisis Text Line by texting HOME to 741741, call the National Alliance on Mental Illness helpline at 1-800-950-NAMI (6264), or visit the National Institute of Mental Health website.
The interruption that started it all
The stage interruption that started it all happened at the 2009 MTV Video Music Awards while Taylor Swift was accepting a best female video Moonman for "You Belong With Me." The star had barely begun her gracious gush of a speech when Kanye West materialized like a Disney villain from the shadows. The "I'mma let you finish" interruption that echoed around the world saw Ye suggesting that Beyoncé deserved the accolade more for her incredible video for "Single Ladies (Put a Ring On It)."
Swift was left looking shocked and embarrassed, and the majority of the award show audience likewise reflected her bewilderment. Former President Barack Obama even called West a "jackass" for the outburst in an off-the-record comment to an ABC reporter (via ABC News). Several prominent MTV crew members reflected on the incident in an oral history with Billboard and suggested that they had their concerns about West, who arrived drinking from a bottle of Hennessy on the red carpet — a performative rock'n'roll choice that "seemed very out of character for him."
According to the team members interviewed, Pete Wentz had commented how Kanye West was "so wasted," and producers noticed how West didn't "seem to be in a good place," so they advised staff not to "glorify his behavior." West was promptly asked to leave. Meanwhile, Swift was found crying backstage with her mom. Little did they know, this was only the start of it.
Kanye West shows contrition for his actions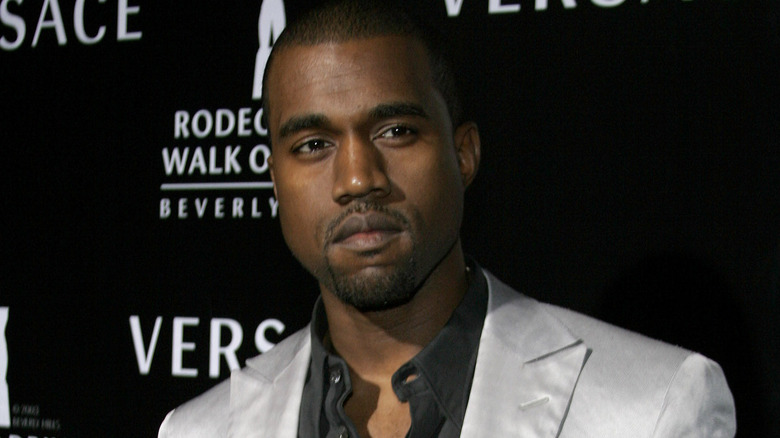 Backlash against Kanye West was swift and harsh, but he was quick to address the controversy directly and to show remorse for it. On "The Jay Leno Show," the hip-hop legend appeared to be genuinely upset for his actions and called the intrusion "wrong" and "rude," — "it was actually someone's emotions that I stepped on," he told Jay Leno. West also suggested that he wanted to apologize to Taylor Swift "in person." He'd previously posted an all-caps rambling apology to Taylor Swift on his blog, which stated that he's "not crazy" but "just real" and that he was "sincerely sorry" (via Entertainment Weekly).
However, while discussing the incident on "The View," Swift suggested that though she'd accept an apology from the star, he had "not personally reached out or anything." Admitting that she was "rattled" by West's stage invasion, she revealed she was more shocked in the moment of it and hurt that it meant she wasn't "gonna get to thank the fans." However, West must have been glued to his TV screen during her appearance, as he apparently called her up right after the show to apologize to her. Swift confirmed their conversation to ABC News Radio: "Kanye did call me and he was very sincere in his apology," she said, "I accepted that apology." Great! And so everyone moved swiftly on, right? Right?!
An apologetic tug-of-war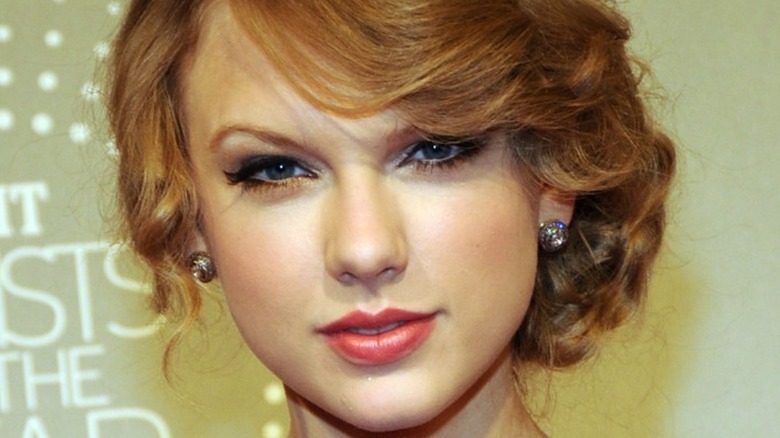 A year later, Kanye West still wasn't done making amends. The "Jesus Walks" rapper took to Twitter to unleash a barrage of (since-deleted) posts expressing his continued anguish for having "run on stage" at the MTV VMAs. Along with comparing himself to "the Wicked witch of the west," the star once again apologized and suggested he'd written a "beautiful" song for Taylor Swift (via Entertainment Weekly).
Sadly for Ye, Swift was one step ahead and had already written a song for him. "Innocent" featured lyrics that appeared to reference West and which, on the surface at least, seemed to absolve him of his crimes: "32 and still growing up now/ Who you are is not what you did/ You're still an innocent." The singer confirmed that the song was written "to him," not "about him," during an interview with New York Magazine.
Response to the track was mixed, with pop culture experts musing to MTV that Swift's positive spin on the incident "was a very smart move," and that "sometimes forgiveness is the sweetest revenge." Meanwhile, Slant accused the song of being a "condescending sermon … written for West." Did Ye not take kindly to it? By the end of the year, he was backtracking on his apology and complaining that Swift was exploiting his actions for her own infamy. "Taylor never came to my defense at any interview," he said, "And [she] rode the wave and rode it and rode it" (via Daily News).
The feud lingers on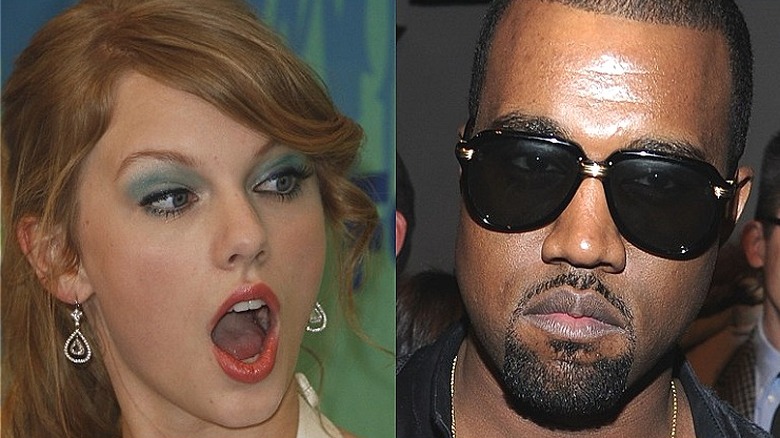 In the years that followed, the feud continued to simmer on a low heat in the background of both of the stars' respective careers. Despite all the songs and public apologies, relations remained strained between the two. A New Yorker profile about Taylor Swift depicted an awkward run-in between herself and Kanye West at the 2011 Met Gala where "the two exchanged a studiedly casual, 'down low' high five," and where Swift is described as being hesitant but "giddy" to do so. 
A Rolling Stone profile a year later further suggested that the singer had memorialized the VMAs incident in her home, where "a photo of the moment Kanye stormed her VMA stage" was on display above her fireplace accompanied by the phrase — "Life is full of little interruptions," which the magazine noted is "a phrase that's also in the liner notes of her last album." The moment appeared to mean a great deal to Swift, but not to Kanye West. The rapper seemed to be growing increasingly resentful about reactions to the incident itself and his handling of it.
By 2013, Ye was once again chatting down his apology to The New York Times, and he suggested that he only said sorry to Swift because he'd "fallen to peer pressure" and he "doesn't have one regret" for his actions. But even the most heavily boiling pots get cold eventually, and in time, the feud would appear to fizzle out. 
Kanye West and Taylor Swift appear to bury the hatchet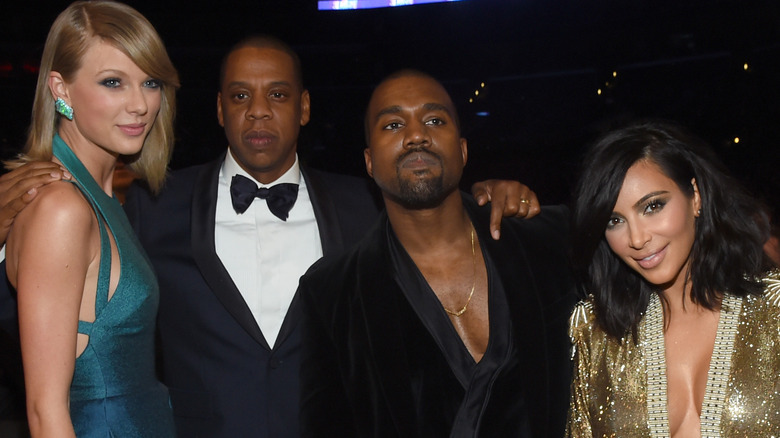 In 2015, it appeared as though Kanye West and Taylor Swift had binned their respective Burn Books in favor of friendship. The two were seen having fun together at that year's Grammy Awards, where West jokingly recreated his VMA incident when Beck won Album of the Year — but chose not to storm the stage this time around.
While he was a guest on "On Air with Ryan Seacrest," West recalled that Swift approached him afterward to share her appreciation of his attempted VMAs prank. He also suggested the two were primed for a collaboration: "She wants to get in the studio and we're definitely going to go in," he told the radio show host. Sounds positive, right? Except Swift was singing from a slightly different hymn sheet.
In an interview with Vanity Fair, Swift denied that she had a collaboration planned with West, and though she "wouldn't rule it out," having a basic friendship with the man was enough for the time being. "Hey, I like him as a person," she said, "And that's a really good, nice first step, a nice place for us to be."
The two come full circle at the VMAs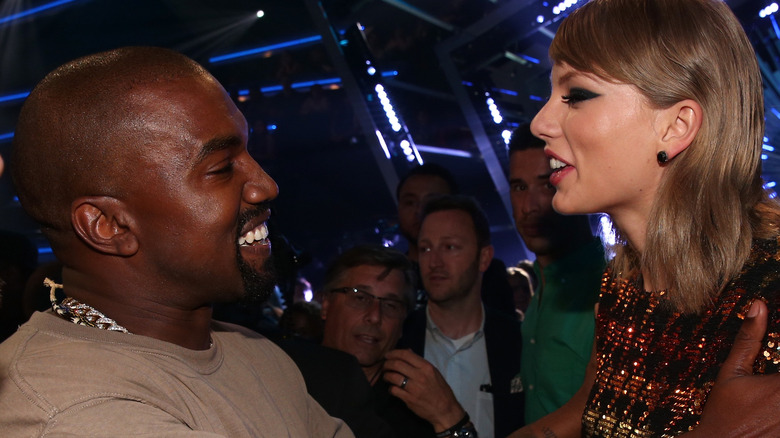 The newfound pals continued to strengthen their friendship in public with a truly touching moment onstage together at the 2015 MTV Video Music Awards, where Taylor Swift presented Kanye West with the Video Vanguard Award. In his acceptance speech, Ye thanked Swift for "being so gracious" as to present him with the award, and he reflected on his 2009 behavior. Though the Hennessy had been drunk and "the stage was gone," he said, "the effect" that the moment "had on people remained" (via MTV). 
After outlining the "new mentality" of millennial artists and musing for a long while on how "art ain't always gonna be polite," West rolled his train right off the tracks by ending his speech with an announcement: "I have decided in 2020 to run for president" (via MTV). Following the VMAs, West sent Swift a bouquet of flowers, which the "Bad Blood" star shared on Instagram along with the caption, "Awww Kanye sent me the coolest flowers #KanTay2020 #BFFs" (via People).
Tellingly, the post has since been deleted. And why? Bouquets don't fix bullet holes, and West's next major song and video would suggest he may have said sorry just for show. Baby, now we've got bad blood…
The feud reignites with Yeezy's new song, Famous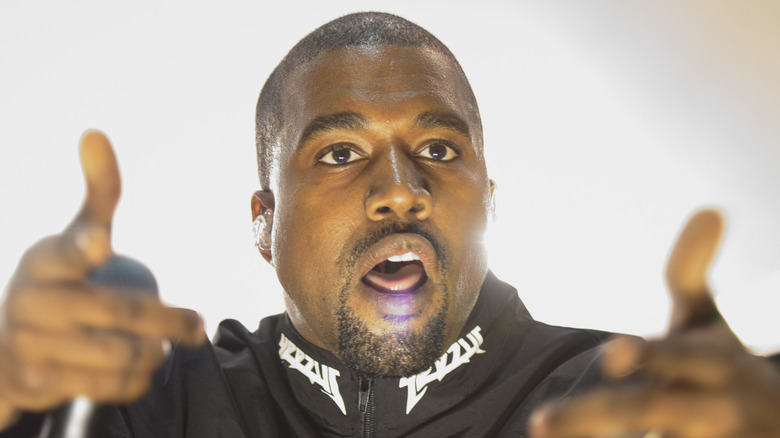 At his 2016 Yeezy show, Kanye West would introduce a song that would irrevocably alter the good relations he'd seemingly forged with Taylor Swift in recent years. "Famous" featured the eyebrow-raising lyric, "I feel like me and Taylor might still have sex/ Why? I made that b*tch famous." West defended his choice of lyrics in a Twitter thread where he suggested he'd had a long phone conversation with Swift "about the line and she thought it was funny and gave her blessings" (via BBC). 
West also suggested the line was inspired by something Swift had allegedly said to a mutual friend: "I can't be mad at Kanye because he made me famous!" Swift's team vehemently denied West's version of events and instead claimed that West wanted Swift to release "Famous" on her Twitter, but she "declined and cautioned him about releasing a song with such a strong misogynistic message." The star alleged she "was never made aware of" such an inflammatory lyric about her (via People).
Like a lunch room brawl in high school, Swift's squad piled in to defend their pal and waggle their respective social media fingers at West. Karlie Kloss deleted an Instagram post showing her wearing a pair of Yeezy boots (via Refinery 29) — the supermodel equivalent of tipping West's lunch tray onto the floor — while actor Jaime King took to Twitter to say, "I'm so sad right now & disappointed." Meet us by the bleachers in five 'cause this fight is about to seriously kick off.
Taylor Swift lands a verbal dig at the Grammy Awards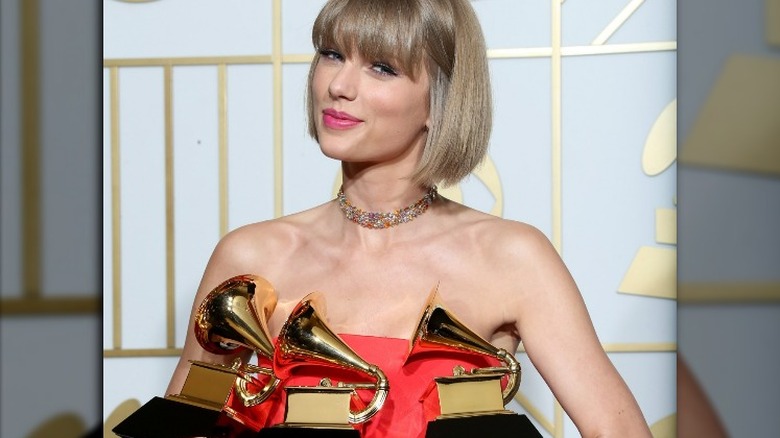 When Taylor Swift mounted the stage at the 2016 Grammy Awards to accept her Album of the Year award for "1989," her acceptance speech took no prisoners in calling Kanye West out for his "Famous" actions. She didn't address him directly by name, but she didn't have to — the subtext of her speech said it all.
"I want to say to all the young women out there, there are going to be people along the way who will try to undercut your success," she said, "Or take credit for your accomplishments or your fame." As Vox theorized, "Swift's speech could be read as an unapologetic response to West's crass song." It could be, and indeed, it was. In a GQ interview to follow, West's former wife, Kim Kardashian, accused Swift of having "completely dissed" West in her Grammys speech and of using this particular platform "to play the victim again." From stage left, here comes a new challenger!
Kim Kardashian enters the ring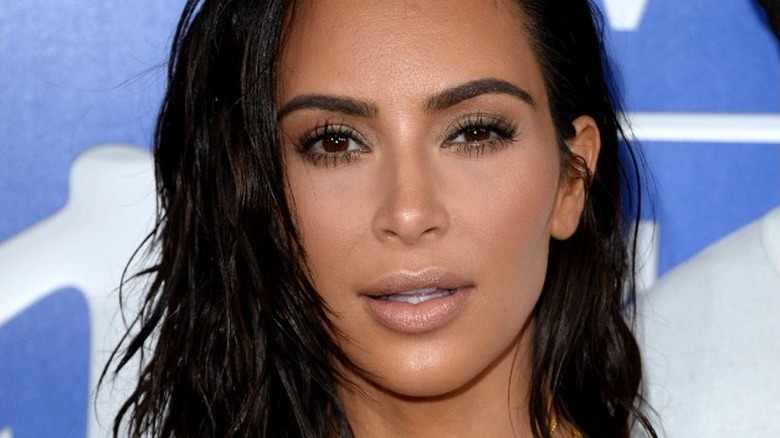 In 2015, when Taylor Swift told Vanity Fair that Kim Kardashian is "the sweetest … a really sweet, kind, warm person," she likely never imagined that she'd incur the wrath of Kanye West's forthright wife. A few months after the initial "Famous" controversy, Kardashian entered the pop culture Thunderdome of the song to counter the claws being poised at her husband's head. In an interview with GQ, Kardashian suggested that not only were the "Famous" lyrics "totally approved" by Swift, but that she and West also had the receipts to prove it. 
As she told the magazine, West commissions videographers to film his entire process "for posterity" when he's making an album. The result? Alleged proof that Swift "totally gave the okay" for the lyrics. Kardashian also alleged that the singer's lawyers sent a letter demanding they "destroy" the footage.
Naturally, Swift's team provided a thorough response countering these allegations to GQ, reiterating that Swift was "humiliated" by the song and unaware that she'd be called "that b*tch" in it. The "Famous" feud was already at boiling point — and then the music video came out. 
The Famous music video stirs the pot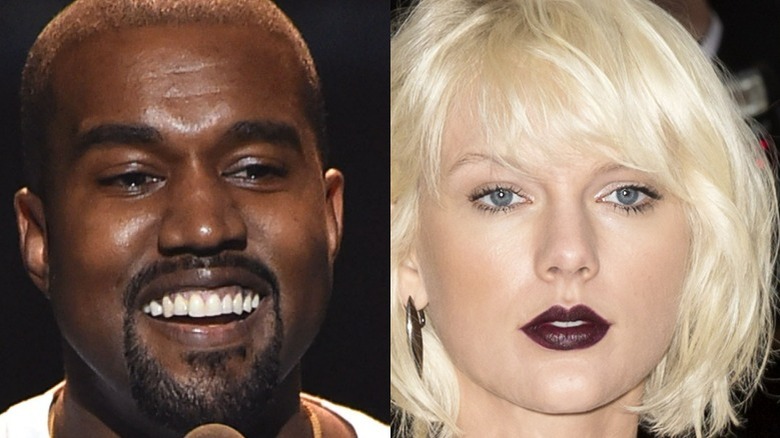 When the extremely NSFW music video for "Famous" dropped, it truly made music fans everywhere long for the halcyon days of the Kanye West and Taylor Swift feud. Remember when we all got mad about West drunkenly breaking award show etiquette? Cute! Now, the feud had stepped up: The visual for "Famous" featured realistic waxworks of various naked celebrities in bed together.
Swift was one such celebrity whose bare form was shown asleep next to people like Rihanna — posed controversially next to a naked Chris Brown — and (sorry for the mental image) Donald Trump. Understandably, friends and fans of Swift were not at all entertained by the video, which West described to Vanity Fair as being a "comment on fame," but which several publications, including Bustle, blasted for being "exploitative." 
Filmmaker and actor Lena Dunham — a friend of Swift's — similarly criticized the video for its depiction of "unconscious" women being "reduced to a pair of waxy breasts" and presented as props. In the lengthy Facebook post, Dunham wrote, "I can't watch it … if it feels informed and inspired by the aspects of our culture that make women feel unsafe even in their own beds, in their own bodies." Swift remained silent on the matter, but as noted by Glamour, the singer liked an Instagram post suggesting the video was "revenge porn" against her — so read into that whatever you need to. 
Taylor Swift reclaims her narrative with Look What You Made Me Do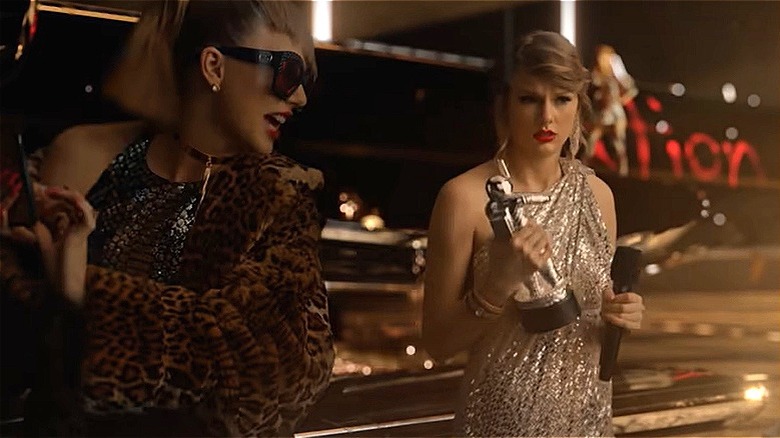 One year later, and Taylor Swift had mopped up every last drop of venom hurled her way and used it as ammunition for her self-referential beefy bop, "Look What You Made Me Do." In a sssneaky callback, Swift fiendishly began sharing snake videos on her Instagram (via Cosmopolitan) in the build-up to the song's release, leaving little doubt as to who or what the song would be addressing.
As Harper's Bazaar pointed out, the song has references to Kanye West, such as the "tilted stage" she sings about in her opening lines — which seem to be a nod at West's Saint Pablo Tour's angled stage set-up. Most notably, however, the song's closing lyrics see Swift reclaiming the "R.I.P Taylor Swift" memes for her own, with the lines "I'm sorry, the old Taylor can't come to the phone right now/ Why? Oh! Cause she's dead!" aptly sounding like a phone recording. 
Swift's music video stayed on point and featured a myriad of visual references to the ongoing battle of West vs. Swift. Featuring a rogue's gallery of Swift's different musical personas over the years, the music video notably features a moment where Swift recreates her 2009 VMA's look and says, "I would very much like to be excluded from this narrative," while a character dressed suspiciously similar to Kim Kardashian is shown recording the star on her phone for "receipts" that she intends to "edit … later." Shots fired!
Kim Kardashian shares her receipts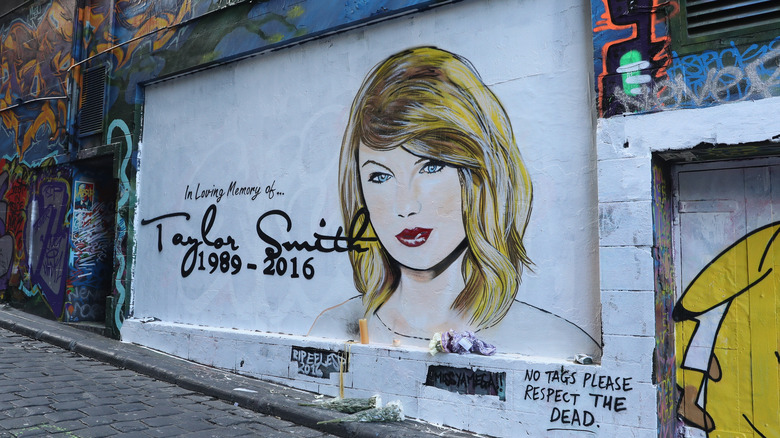 Kim Kardashian was lacing up her boxing mitts and pacing the ring as she prepared to share her long-teased "Famous" receipts. In the build-up to the bombshell footage drop, Kardashian took to Twitter to celebrate "National Snake Day" in a post that seemed to be slyly directed at Taylor Swift. She then shared multiple videos on Snapchat, seemingly depicting Swift approving West's lyrics about her.
In the videos, Swift appears to be suggesting the lyrics are "like a compliment" and that she appreciated West giving her the "heads up" on them (via People). Social media was alive with the sound of karma, and people — cruelly or otherwise — celebrated Swift's cultural burial via Snapchat. Memes jokingly referencing Swift's figurative death circulated online and beyond — including an infamous wall mural in Australia (via Cosmopolitan). 
On Instagram, Swift fought the validity of the videos and said they weren't telling the whole story. Instead, she suggested, West never played her the whole song or told her that he'd refer to her as "that b*tch." She wrote, "Being falsely printed as a liar when I was never given the full story or played any part of the song is character assassination" (via E!). Meanwhile, West took the stage at a Drake concert to brag about his victory, "I am so glad my wife has Snapchat, 'cause now y'all can know the truth," he said (per People).
Reputation brings the beef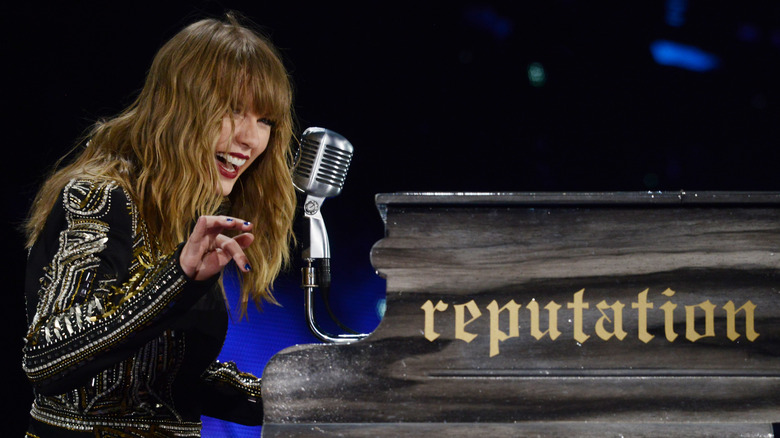 "Look What You Made Me Do" made a bold statement for Taylor Swift, but the star had a whole album of statements in store to keep the fires of the feud sufficiently fanned. Fans and critics alike saw the raw embers of her squabble with Kanye West littered all over Swift's sixth studio album, "Reputation."
According to Bustle, songs like "This Is Why We Can't Have Nice Things" and "End Game" both appear to feature lyrical nods to the tortured friendship between Swift and West. Lines in the former, including "Friends don't try to trick you/ Get you on the phone and mind-twist you," appear to make direct reference to the whole "Famous" debacle, while "End Game" potentially points out Ye as being one of Swift's "big enemies." 
Lyrical shade aside, Swift also attracted controversy for dropping an album full of Ye diss tracks on the 10-year anniversary of the death of his beloved mom, Donda West (via Teen Vogue). The singer might have been seeing red, but would she actually stoop this low? A publicist for the star assured People that "there is no correlation" between the dates, and that "Reputation" was "locked in" to this particular release date "based on other Universal Music Group releases." Sure, Jan. 
Kim backs down, but Taylor steps up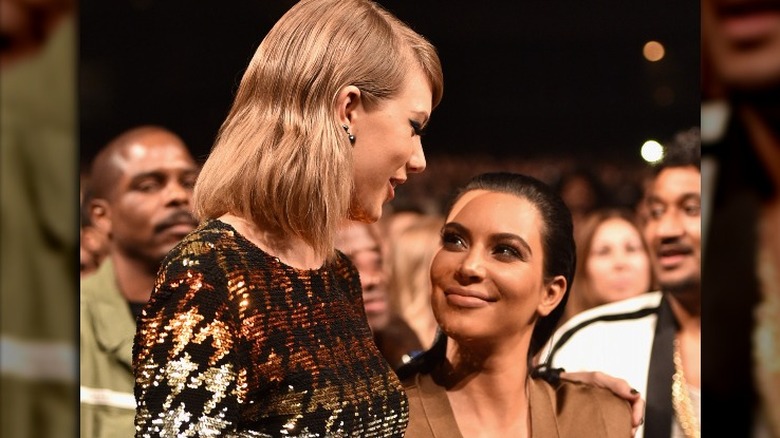 After "Reputation" appeared to serve the final tired swings in the musical scuffle of Kanye West and Taylor Swift's feud, things seemed to quiet down between the two. On "Watch What Happens Live with Andy Cohen," Kim Kardashian even coolly suggested that she was finally "over it" when questioned about her and West's beef with the singer. "I feel like we'd all moved on," she told the Bravo host. 
By all accounts, that wasn't true for Swift, who indirectly accused the Kimye camp of having orchestrated an "online hate campaign" against her which led to her "feeling lower" than she ever had, the artist wrote in Elle. Though she doesn't name the perpetrator, she does suggest it was someone who called her "a snake on the internet." So, it doesn't take Veronica Mars to solve that particular mystery.
What would it take to end the dispute at this particular endless juncture of the feud? "It would be nice if we could get an apology from people who bully us," Taylor Swift wrote in her Elle article. Good luck with that.
A new video is leaked in this neverending feud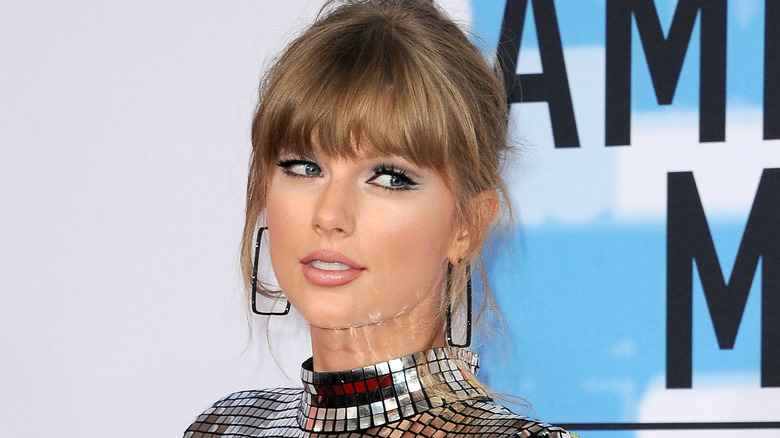 Honestly, who needs an apology when you can continue to pour gasoline on a fire? An "unedited" video was leaked online which appeared to prove that Taylor Swift was telling the truth about her side of the "Famous" story. And the most protracted music feud in history subsequently became even more prolonged. According to Cosmopolitan, the video started circulating on Twitter in March 2020 and appears to show Kanye West referencing a "very controversial line" about Swift in the song, without ever making reference to the "that b*tch" portion of it — just as Swift has always maintained.
Though the singer appears to approve of the "tongue-in-cheek" line about herself having sex with West in return for making her famous, she also states that she needs time to think about it, too. Swift shrugged off the attention given to the leaked video on her Instagram stories, where she insinuated that the damage caused by the original "edited and manipulated" video was long done. Instead, she redirected fans to a Feeding America donation page (via Just Jared). 
Apparently, Kardashian wasn't in a charitable mood. Furious, she took to Twitter to state that she was "really embarrassed and mortified" to be having to comment on the video because Swift "continues to speak on it." She wrote, "I feel I'm left without a choice but to respond because she is actually lying." Is anyone telling the truth?!
Taylor Swift chooses to release Folklore on the same day as Kanye West's Donda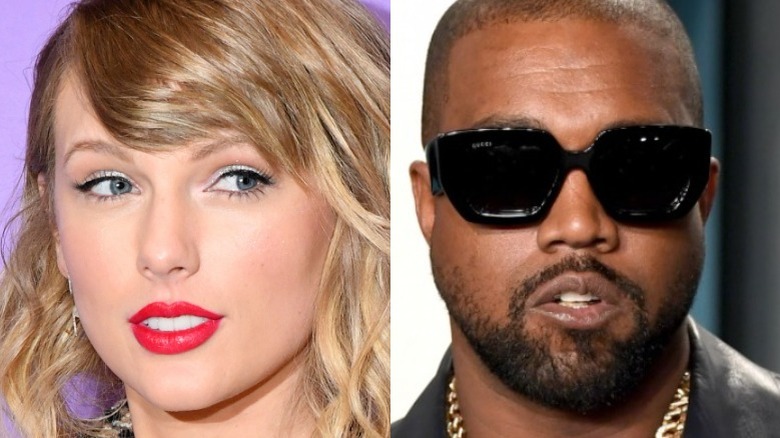 Since the "Reputation" controversy, it seemed Taylor Swift wasn't done with playing the 'release date' game with Kanye West, as the singer chose to release her "Folklore" album on the same day West was supposed to release "Donda" (per the Daily Mail). Luckily, Ye isn't renowned for his punctuality with album releases, and "Donda" would be postponed for over a year — not that it stopped Swift from taking a swipe against him, regardless.
By the time West's new album dropped in 2021, it coincided with the release of Halsey's new joint, "If I Can't Have Love, I Want Power." Curiously, Swift tweeted her support of Halsey's album and urged fans to "stream and buy it." The timing was suss, but was it intentional? Fan responses suggest it may have been: "I see what you're doing and that's why I love you," a popular Twitter reply read. 
Clearly, the West vs. Swift feud was still a huge thing, and not just to the two stars. It had become ingrained in pop culture. So much so that when Soulja Boy went on a Twitter rant after it was revealed that the rapper's guest verse had been removed from the final cut of "Donda," he took a huge swipe in a tweet by suggesting Ye should "apologize to Taylor Swift." 
Suffice it to say, we probably have a few more decades of this beef to come.
Source: Read Full Article