Buckingham Palace Just Participated In This Big Event For The First Time In Nearly Two Years
Buckingham Palace has hosted several events over the years, but the coronavirus pandemic put a stop to most of these things for well over a year. Queen Elizabeth was forced to announce closures and cancellations at both Buckingham Palace and Windsor Castle in early 2020, which ended up lasting through the whole year — and well into 2021, according to Harper's Bazaar. "In line with current government guidelines, and as a sensible precaution in the current circumstances, there will be no large scale events held at Buckingham Palace or Windsor Castle for the rest of the year," the palace said in a statement back in October, according to the Evening Standard. 
Throughout the majority of the pandemic, the queen spent her days quarantining at Windsor Castle. Following the death of her husband, Prince Philip, back in April, the Daily Mail reported that the queen would live out her days in Windsor, only using Buckingham Palace for official business. The palace reopened to visitors this summer, according to Vanity Fair, and things appear to be getting back to normal — slowly, but surely. On August 23, the palace hosted a very big event for the first time in nearly two years. Keep reading to find out more.
Buckingham Palace hosted the Changing of the Guard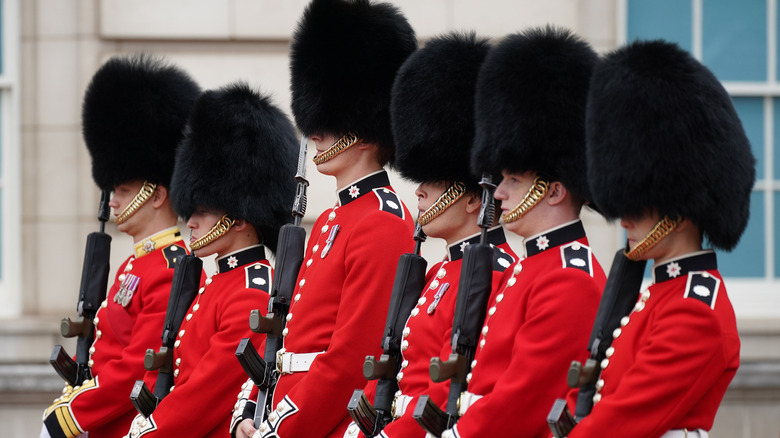 On August 23, Buckingham Palace hosted its first Changing of the Guard in 17 months, according to People magazine. The Changing of the Guard is something that usually happens a few times a week, at the same time of day, and draws a fair amount of spectators. The ceremony was paused due to the government's recommendations for people to "avoid large public gatherings" in an effort to "slow the spread of the coronavirus," according to People. 
According to Visit London, the Changing of the Guard begins at 10:30 a.m. local time and lasts for about 45 minutes. It's defined as "a formal ceremony in which the group of soldiers currently protecting Buckingham Palace are replaced by a new group of soldiers." The soldiers — members of the 1st Battalion Coldstream Guard — are all dressed in their iconic red jackets with black bearskin hats. The ceremony is accompanied by music; spectators on August 23 enjoyed the first performance from the Band of The Coldstream Guards as this tradition resumed. 
People reports that the Changing of the Guard will now be back in full swing, and will hold the ceremony four days per week; Mondays, Wednesdays, Fridays, and Sundays.
Source: Read Full Article