How Richard Branson Really Spends His Millions
In true "Virgin" fashion, Sir Richard Branson became the first person to ride into space aboard a rocket he helped fund. On the morning of July 12, Branson, along with three Virgin Galactic crew members, arrived in space, just 1.5 hours after taking off from New Mexico (per BBC) … a goal he only ever "dreamt" about. As Branson floated around in microgravity, he taped a motivational message using cameras onboard his space plan and said, "To all you kids out there — I was once a child with a dream, looking up to the stars. Now I'm an adult in a spaceship… If we can do this, just imagine what you can do," which he also tweeted.
Another starry-eyed billionaire, Amazon founder Jeff Bezos, is also set to take off in his own spacecraft on July 20, per 9 News. Despite Bezos being Branson's direct competitor, the knighted British billionaire is now one step ahead of the game. Branson's company has already sold more than 600 seats to wealthy space enthusiasts for price points between $200,000 and $250,000 each. Ticket sales are set to reopen at an even higher price point.
Despite being a trailblazer in the space industry, Branson is way behind rival Bezos on the Forbes Rich List. He sits at just #589 and is worth a modest $5.2 billion. But if Virgin Galagatic blasts off — as we anticipate — he could soon be worth a heck of a lot more. 
Richard Branson says he wouldn't be a billionaire if his mother didn't find a necklace on the street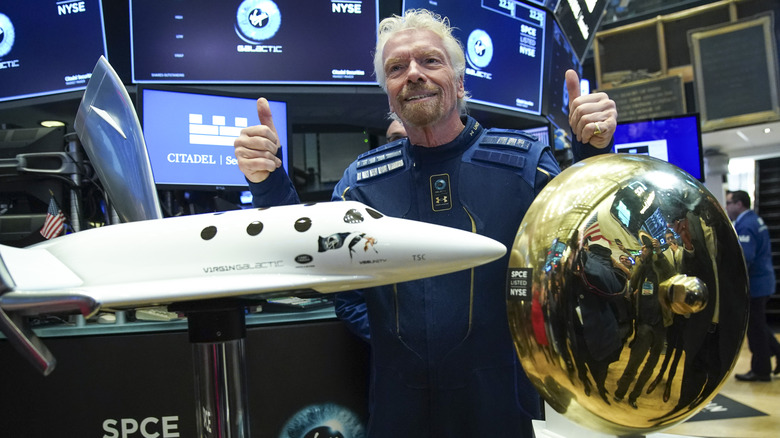 While some billionaires show off their cold-hard cash through status symbols like cars or clothes, Sir Richard Branson prefers to make investments. The 70-year-old now oversees more than 500 companies worldwide, but according to Business Insider, he's rather "frugal," which perhaps stems from his middle-class upbringing. Branson, who was predicted by his teacher to either be in prison or a billionaire (per Love Money) credits his fortune to his late mother, Eve Branson.
In a public letter released on Jan. 11 following her death, Branson wrote: "It is no exaggeration to say I owe my career to mum." He explained that in the '60s, his mother came across a lost necklace on the street, which she later ended up selling and gave all the proceeds to him. "Without that £100, I could never have started Virgin," he wrote. 
Branson was just 16 when he began his entrepreneurial career, and since then, the business magnate has ventured into the telecommunications and media industry, music and entertainment, financial services, health and wellness, aviation, and now space, per Fox Business. So, how does the self-made billionaire currently spend his hard-earned dough? 
Richard Branson says he wears the same pair of jeans every day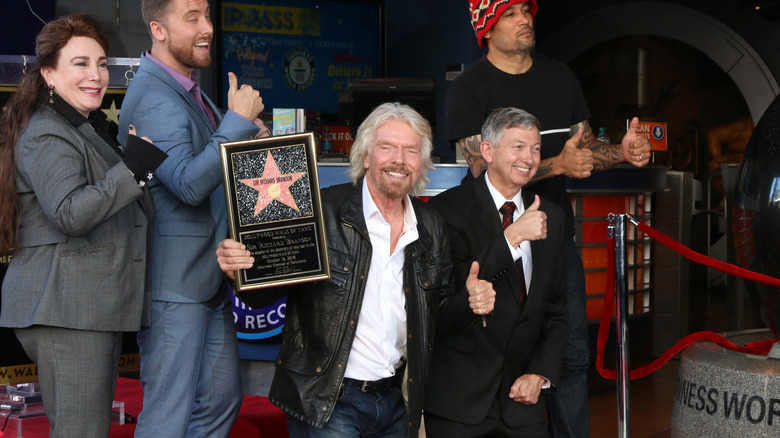 While the savvy businessman has a penchant for fast planes and real estate, he doesn't care much for labels. Sir Richard Branson told Page Six in 2019 his daily, go-to outfit is "the same pair of jeans" with a "simple" white shirt. "Whatever I'm doing, whether it's a speech, whether it's going to see the queen, you know, whatever it is." 
Branson also told The Guardian in 2002 that he can't justify buying expensive artwork and instead prefers to buy watercolors at a reasonable price. He's also not keen on gambling, is big on philanthropy, and likes to tip large if someone has "done their work with a smile," per Business Insider. He once offered a London cab driver two first-class plane tickets, per the outlet.
But the billionaire came under fire in 2019 for writing on his Virgin website that "happiness doesn't come from stuff," per The Evening Standard. Online critics reportedly pointed out the hypocrisy in Branson's claims, saying he indulges in lavish holidays on Necker Island (the island he's owned in the British Virgin Islands since 1978), his luxury safari camp in Kenya, and various other resorts worldwide. Branson also owns a private plane, a vineyard, and a houseboat in London… with each splurge available for rent, thereby providing a smart return for his investment. 
Source: Read Full Article