Kraft is giving away packets to make Mac & Cheese taste like candy: smart or gross?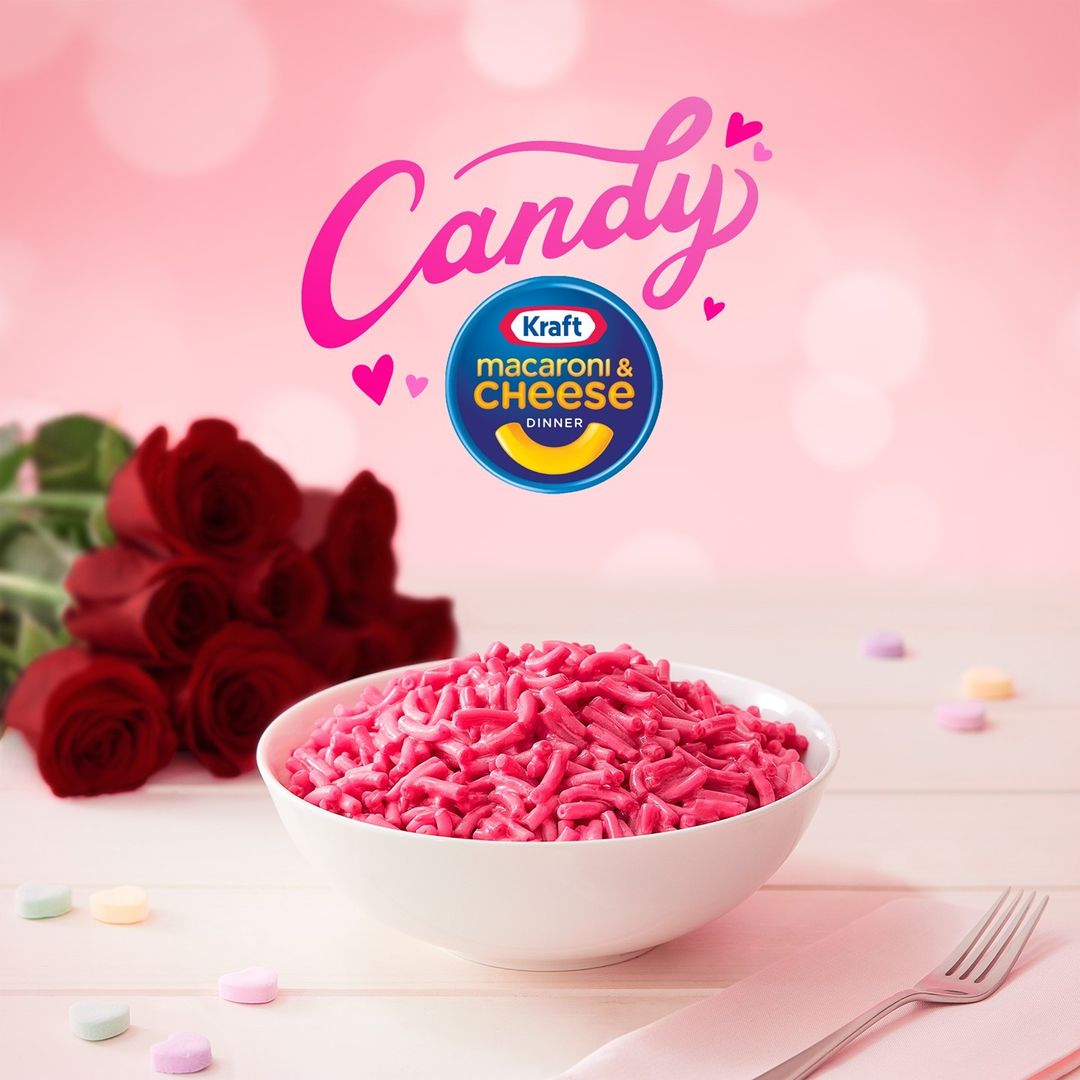 I already know what most of you are going to say: why would you eat that, it's gross, it looks disgusting. Hear me out though, I like this idea. I know this is not going to be the popular opinion, but I'm ok with that. After a year that saw us eating 30% more processed food, Kraft wants to bring a little sweetness and love to our standard box mac and cheese. They're introducing some kind of chemical-laden additive to mac and cheese that will turn it pink and make it taste like candy. You can enter to win one of 1,000 of these candy packets at candymacandcheese.com. (This is not a sponsored post, I just like talking about food. Remember when I hyped Panera pizza?) I have to admit, I'm really disappointed that they're not selling these to the general public. I would have bought candy mac and cheese as soon as I could get it. Here's more on this story, from People:
This Valentine's Day, Kraft is introducing a new mac and cheese that is sweet to say the least.

Forget chocolate or strawberries, Kraft is spreading the love with candy-flavored mac and cheese. The limited-edition noodles have the same cheesy flavor as the original, but with an extra candy packet that turns the mac and cheese a bright pink color and adds a dusting of sweetness.

Kraft announced the Candy Mac on their Instagram page, and like any controversial new food, fans had a lot to say in the comments. Many people were super intrigued commenting, "Omg! I need to know what this tastes like. 😍," and "WOW I need this in my life STAT 💘." While others were pretty uneasy about the idea. "This makes me so uncomfortable," one user said.

This interesting combination won't be available in stores, though. Only 1,000 lucky people will score their own box of candy mac and cheese to share with their lovebird. To enter for a chance to win a box, go to CandyKraftMacandCheese.com. Winners will receive their prize just in time for Valentine's day.
[From People]
I'm a sugar addict, I definitely need to work on that. I like eating unnaturally colored bright things like Jelly Bellies and Skittles. I eat Necco Wafers about once a week, so your criticism of my childlike taste buds will not hurt me. I really want to try this sugary mac and cheese so I entered the contest. I also looked up sweet mac and cheese recipes. The ones that kept coming up were soul food baked mac and cheese recipes. (There's also sweet and salty mac and cheese, but that doesn't look as good.) I want to try baked mac and cheese in general and know my son would prefer a non-sweet variety. My friend Karen has made this recipe many times and recommends it. She makes a huge batch for company with both sharp and mild shredded cheddar packs. My kid will love it so I'm definitely making this over the weekend.
Here are a few choice reactions to Kaiser's tweet to me about this:
— DogMom (@carrrieannek) January 27, 2021
— Maeve (@MaevoWavo) January 27, 2021
— Gemma (@jemimaleopard) January 28, 2021
https://www.instagram.com/p/B9kESYNHuDd/
A post shared by Kraft Mac & Cheese (@kraft_macandcheese)
https://www.instagram.com/p/B3MajOenTbK/
A post shared by Kraft Mac & Cheese (@kraft_macandcheese)
Source: Read Full Article