Lil Nas X: All of this is in pursuit of becoming my full self, more and more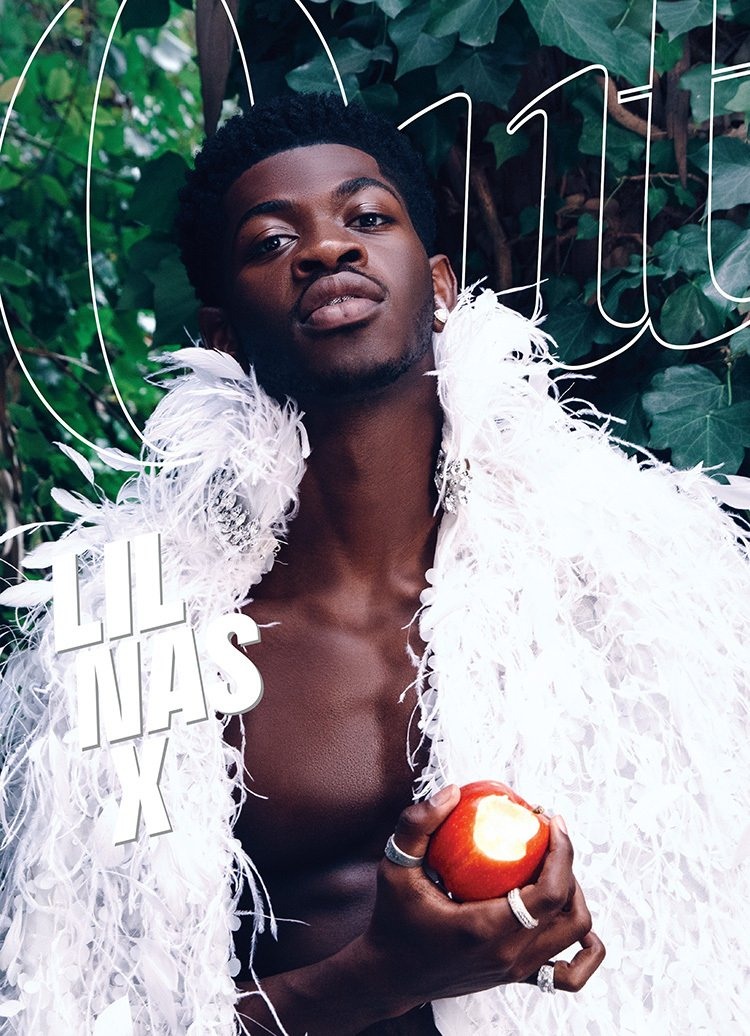 When will Lil Nas X drop his skincare routine? I really want to know what products he uses because his skin is always so beautiful and moisturized. Nas covers the latest issue of Out Magazine to promote his album, Montero. That's his real name – Montero Lamar Hill. He speaks to Out about the duality of being Nas and Montero, but the bulk of this interview is about how he found himself and began to own his identity of a Black, Southern queer man. The Southern community and the Black community are both behind the times when it comes to LGBTQ+ acceptance, and Nas acknowledges that struggle. Plus, he's a queer musical artist in a genre dominated by straight artists. It's a lot. Nas talks about the reaction to kissing a man on-stage at the BET Awards and a lot more. Some highlights from Out:
On the BET Awards: "Going to this place with all these overly masculine rappers and you're finna be in there throwing a little ass every now and then, touching on dudes and hugging them and kissing them…at some points I was like, 'Should I even do this? I don't feel like they're going to love me like that.' [People always say] go where you're accepted and stuff like that, but you can't always just go where you're accepted. You've got to go and break down those walls and say, 'This is my space now too.'"

Southern man: "Growing up in the Atlanta area, I [saw] a lot of microaggressions towards homosexuality. Little things like going into an IHOP and hearing one of your family members say, 'Look at those fa–ots' to two people eating or even just a small [statement like] 'Boys don't cry.' Little sh-t like living in the hood, not being super into sports, and then having to go outside and pretend that I was."

The draining part of breaking through as a Black queer man: "Mentally, it's really draining and straining sometimes. The pressure of living your entire life knowing the identity of what a rapper is supposed to be, what rappers [are supposed to] do, and going out there in front of all these people, it's terrifying. [The BET performance] was like jumping in a lake full of sharks and piranhas — and I've had to do that so many times within these last three years. Even coming out, that was terrifying. When I put on the costume of Nicki, terrifying."

He's resilient but he struggles too: "I won't pretend like I'm never sad or anything. I've had a bunch of hard times this past week, after that performance and before the performance. But for me, that's life, and one thing I 100 percent never do when I'm in these down moments is go to social media with them. Because I know that they're going to pass, and what a lot of people like to do is use that against you. Growing up, I didn't realize it, but I've always been kind of my own hand on my own shoulder. I've had to keep a lot of secrets, and I can only share those things with myself. So, I had to lift myself up when I was down, from f–king 9 years old, because I don't feel like me and my dad ever had a super emotional connection after he got custody of me and my brother, and I didn't really get that with my mom and my siblings."

Is he Nas or is he Montero? "I'm turning into Montero more and more, day by day. I named the album after myself because there are a lot of things I've been going through and dealing with and wanting to say. I wanted to let sides of myself show that I've been afraid of people seeing for so long. I'm still not my full self, but that fear of the people around you that you're the closest to and loving the most not understanding why you're doing what you're doing, that's something we just have to let go of. All of this is in pursuit of becoming my full self, more and more."
[From Out]
I find him so impressive, don't you? The way he carries himself online and in life, in the music industry, in Atlanta and beyond. Especially for someone so young – he's only 22 years old and he understands that some ceilings need to be broken and how he has to be the one to do it. The mix of vulnerability and swagger… well, I just love him. I love "Industry Baby" too, I think it's his best song to date.
https://www.instagram.com/p/CSHx_scLRzx/
A post shared by Out Magazine (@outmagazine)
Cover & IG courtesy of Out Magazine.
Source: Read Full Article