Lizzo Chanting Beyoncé's Name Before Winning a Grammy Is the Purest Thing You'll Ever See
If you were too busy trying not to cry while Lizzo delivered her perfect acceptance speech for Best Pop Solo Performance at the Grammy Awards, you probably missed one of the purest moments ever broadcast at a televised award show. Seriously, these five seconds prove that Lizzo is a literal angel that we must protect at all costs. It was even cuter than Mason Ramsey popping up during Lil Nas X's performance.
As you probably know, Lizzo was nominated for a BUNCH of Grammy awards this year, including Best Pop Solo Performance. And as much as she deserves to take home enough hardware to fill a U-Haul, you have to admit the category was stacked. The "Truth Hurts" singer was up against Taylor Swift for "You Need to Calm Down," Ariana Grande for "7 Rings," Billie Eilish for "Bad Guy," and Beyoncé for "Spirit." Yes, BEYONCÉ. Insert Tiffany Pollard "Beyoncé?!" GIF here.
As the cameras panned over faces of the artists waiting for the winner to be announced, Lizzo was spotted chanting Beyoncé's name. When her own name was announced, she looked genuinely shocked. The authenticity!
Lizzo chanting Beyoncé's name before winning Best Pop Solo pic.twitter.com/JFJ3DRgAy0
Honestly, I've already watched this clip over a million times because it's just too adorable. I can't handle it! Despite how shocked she was to win (even though…literally nobody else was surprised to see it) Lizzo took her time on the stage to make an incredibly impactful speech.
"Thank you to the Academy first of all, this is really f*cking sick, unexpected, really cool," she started. "I just wanna say this whole week…I be lost in my problems, stressed out and then in an instant, all of that can go away and your priorities really shift and today, all of my little problems that I thought were big as the world are gone and I realize that there's people hurting right now."
What did we ever do to deserve Lizzo? (Or Beyoncé, TBH.)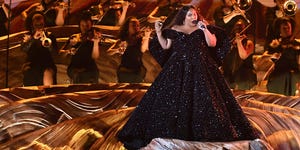 Source: Read Full Article