Maren Morris And Ryan Hurd Share The Ultimate Country Wedding Playlist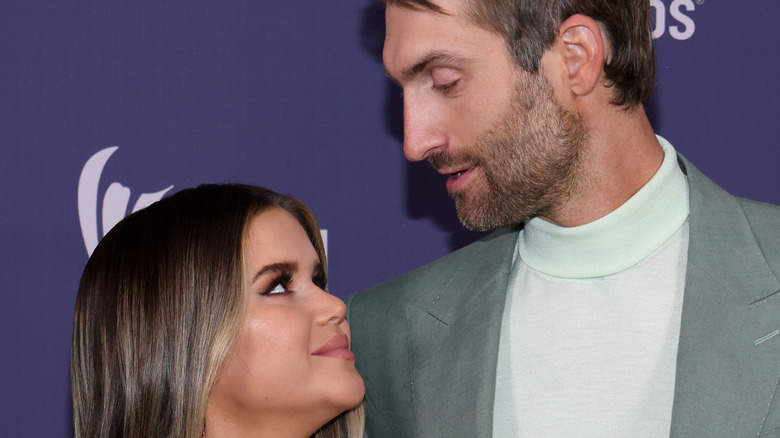 Country stars Maren Morris and Ryan Hurd's friendship-turned-romance feels like the inspiration for a real life country song. The two met in Nashville in 2013 while helping to collaborate on country star Tim McGraw's song, "Last Turn Home" (via Us Weekly). Morris recalled of their meeting, "We were paired together six years ago to write a song. We didn't know each other and it just kind of grew from there, so music has always been really intertwined in our love for each other, and now that we aren't just songwriters, we're artists."
The couple went just about as public as you can with a relationship in 2017, when they released the song "Love in a Bar" together, which adorably chronicled their romance with lines like, "We were just friends, just hanging / Just sitting 'round waiting for somebody to cross the line." After two years of dating, in July 2017, Hurd proposed to Morris. The couple tied the knot in March 2018, and became parents in 2020. In a year packed with weddings due to delays from the COVID-19 pandemic, Spotify teamed up with the country superstar couple to bring us the ultimate country wedding playlist, featuring some of the songs Morris and Hurd had at their own wedding (via Brides). Keep reading to learn their picks.
Morris and Hurd tried to think 'outside the box' with their playlist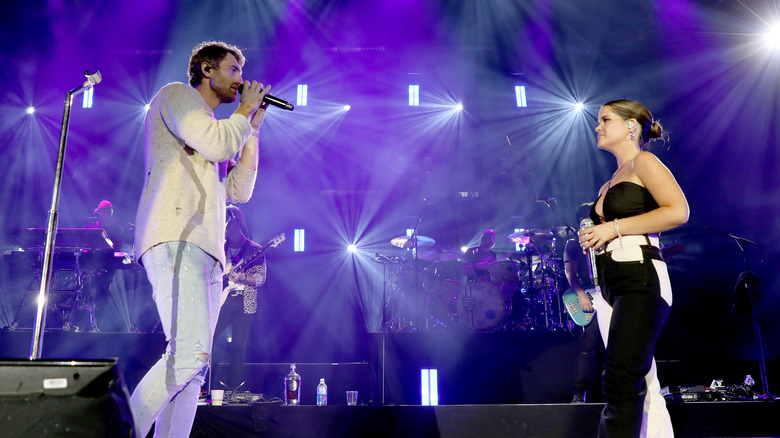 Maren Morris and Ryan Hurd's collaboration with Spotify for the Country Wedding playlist is a mix of unique and underrated country songs with classics that everyone can belt out. The couple explained, "Trying to get a little outside the box, Ashley Monroe's 'Has Anybody Ever Told You' was the song for our first dance at our wedding" (via People). This song is one of the many purely country songs featured on the playlist, among songs from country duo Dan + Shay, and even songs from the couple themselves, such as Morris' "The Bones" and Hurd's "Diamond or Twine."
As for including pop wedding go-to's on their playlist, the couple said, "We felt like we needed to hear 'Mustang Sally' at every wedding we'd go to, and after that we'd take all the Bruno Mars they can stand to jam." And the couple didn't disappoint. Woven into the playlist's country vibes are some familiar faces, including Ed Sheeran's "Thinking Out Loud," Prince's "Nothing Compares 2 U," and of course, Wilson Pickett's "Mustang Sally." So if you or someone you know is tying the knot soon, don't hesitate to use this curated, hit-filled playlist!
Source: Read Full Article