Nicki Minaj Seemingly Shades Erica Banks After Allegedly Ignoring Her Desire to Collab
When praising Akbar V's bars in her new track 'We Go Up', the Trinidadian rapper appears to diss the 'Buss It' raptress as saying, 'I thought the new b***hes just do tweets and interviews.'
AceShowbiz –Nicki Minaj seemingly has something to say to Erica Banks. Taking to social media, the "Anaconda" hitmaker appeared to shade the "Buss It" rapper after she's accused of ignoring the latter's desire to make a collaboration.
On Thursday, April 21, the Trinidadian hip-hop star turned to her Instagram page to share a screenshot of her comments under The Shade Room's post about her newest song "We Go Up", in which Akbar V seemingly slid some bars. While praising Akbar, she cryptically wrote, "Oh ok. B***hes still rap?"
"I thought the new b***s just do tweets & interviews. Waiting on the ghost & I ain't talkin bout Casper," Nicki continued. The 39-year-old raptress added, "I ain't talkin bout a b***h car either dont GAS [gas pump emoji] HER. [fire emojis] My bad. Let's go akbar."
Nicki continued, "Akbar where u been hidin? Right next to my shoota." The "Do We Have A Problem?" femcee concluded her comment as saying, "I'm in the driver seat while he doin all da slidin. now hold awn!!!!!!!!!!!!!!!!!!!!!"
Nicki also took to her Twitter account to ask her 24.9 million followers about her possible new lyrics, seemingly weighing in on the drama. "Talent wins. bulls**t we gotta spin," she wrote the rhymes, before adding, "I just made that up. Oh well how was everybody day ?"

Nicki Minaj shared what appeared to be her new lyrics.
Hours later, Erica shared a mysterious post about reminding people who can really know how to rap. The Texas-based raptress reposted @bighomiekodaq's Instagram Story that read, "F**k the noise. Let's drop this freestyle tomorrow @realericabanks. Let's remind them who can really RAP."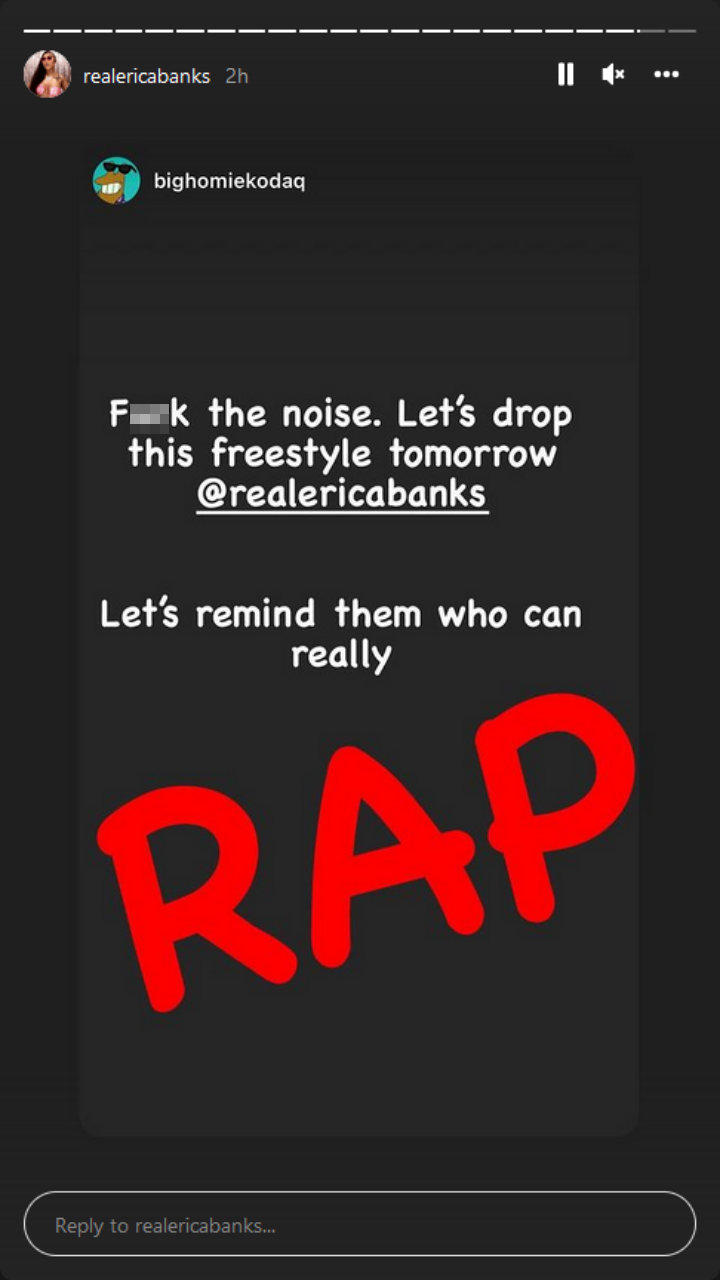 Erica Banks let out a cryptic post about reminding people who 'can really rap.'
The drama began after Erica claimed that Nicki "ignored" her and "hurt" her feelings during her interview with Revolt TV's "Big Facts". "Now some people might get mad at me for saying that but it's the truth, okay?" she said, before stressing, "Everybody can't rap so anyway, Nicki got upset that I agreed with the person and she said 'Bloop imma block you then. Since you wanna be ungrateful, imma block you.' "
Erica later faced heavy backlash over her controversial statement. Among those who called her out were Coi Leray and Asian Doll (Asian Da Brat). Firing back, Coi, who recently released her collaboration with Nicki titled "Blick Blick", listed her accomplishments. "My debut album has over 315k album sales [fire emojis]. 4 Billboard top 100 entries (No More Parties , No More parties Remix, Big Prrd, Blick Blick. 6 nominations with no album . Millions of monthly listeners," she tweeted.
As for Asian, she wrote via Twitter that Erica "played HERSELF nun of the rap girls think like this except the person that sat her a** in that seat on that stage." The "Nunnadet S**t" femcee went on to add, "Don't drag us with this [sic] women with all RESPECT [one hundred emoji]," before stressing, "She sounded dumb asf**k we nun alike keep that s**t over there fr I don't agree or respect s**t she said so the side by side pics ain't giving at all bye."
Source: Read Full Article