Nicolas Cages best friend is a Maine Coon who sleeps with his arm around Cage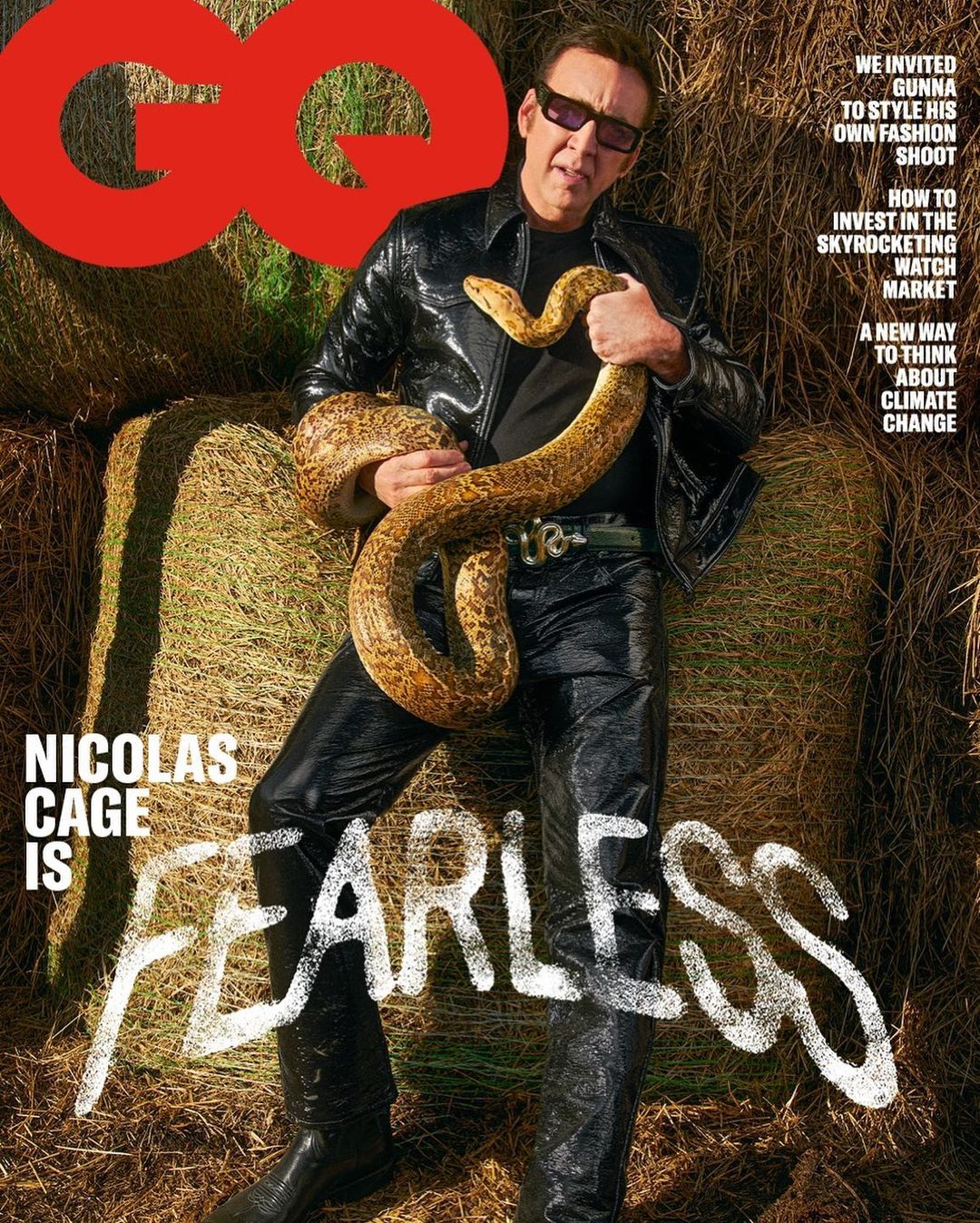 I went into this Nicolas Cage cover profile believing that it was going to be a slog of Nick Cage being bonkers, but I forgot that… actually, Nick Cage is a good interview. He manages to come across as a nice guy who works hard, but someone who is absolutely eccentric. He makes a lot of news in this piece too! Apparently, after twelve years of hard work and saying "yes" to ever script he was offered, he has finally climbed out of debt and near-bankruptcy. He's now saying "yes" to scripts he wants to do… and probably some movies with nice paychecks, since he has to support a growing family and a full menagerie of cats, crows, fish, lizards and snakes. He's currently promoting The Unbearable Weight of Massive Talent, where he stars as… Nick Cage. Some highlights from this GQ profile:
His best friend: He has the regal bearing of an emperor, with an elegant mane of gray hair and wise golden eyes and a luxurious tail and, okay, yes, he is a cat. A Maine coon named Merlin. "He's so kind and so loving," Cage tells me, more than once. "Sometimes he puts his arm around me when he's sleeping, and I think it's my wife, and I go, 'Oh, Riko.' And then it's Merlin."

Expecting a baby with his fifth wife Riko Shibata. They have the names picked out already: Akira Francesco for a boy and Lennon Augie for a girl. "Augie was my father's nickname. And my uncle"—the director Francis Ford Coppola—"has decided to change his name to Francesco," he says, excitedly showing me the two-month ultrasound on his phone. "I think it's so sweet. It's like a little edamame. A little bean."

On all of the supercuts & memes of his hammy acting: "You can't go against that which is… I still don't really fully understand what the fascination is with my face or facial expressions that happen in these memes."

He loves Moonstruck: He initially balked at doing Moonstruck because it seemed too safe of a romantic comedy. "Now looking at it, it's definitely one of my favorite movies I made. Plus, I like the presentation of the Italian American as a loving family. Not just always the gangster."

Why he had so much debt: It was mostly bad real-estate decisions. The grotesquely haunted LaLaurie mansion in New Orleans. The 16th-century Schloss Neidstein in Germany. The 18th-century Midford Castle in England. The Gray Craig estate in Rhode Island. Leaf Cay island in the Bahamas. More mortgages than he could keep up with and a bubble that burst on him, and everyone else, too. "I didn't believe in stocks because I think they're like gambling and they're dangerous, but you can dump a stock," he says, reflecting on the 2008 crash. "You can't get out of real estate that quickly."

How bad it got: "I've got all these creditors and the IRS and I'm spending $20,000 a month trying to keep my mother out of a mental institution, and I can't. It was just all happening at once."

He cared about all of the movies, even the bad ones: "When I was doing four movies a year, back to back to back, I still had to find something in them to be able to give it my all,. They didn't work, all of them. Some of them were terrific, like Mandy, but some of them didn't work. But I never phoned it in. So if there was a misconception, it was that. That I was just doing it and not caring. I was caring."

Being married for a fifth time: "I am a romantic, and when I'm in love, I want to give that person everything I can. It's my expression of saying, 'I love you. I want to spend the rest of my life with you.' And this is it for me." He shakes his head and looks down at his plate, speaking to himself more than to me. "I mean, this is not happening again. This is it. This is it."

He wants to keep making independent films now. "I enjoy making movies like Pig and Leaving Las Vegas more than I enjoy making movies like National Treasure," he says. He waves away suggestions that National Treasure 3 is happening, after I mention that Jerry Bruckheimer told me they were developing something. "When I talk about fair-weather friends in Hollywood, I'm not talking about Jerry. I'm talking about Disney. They're like an ocean liner. Once they go in a certain direction, you've got to get a million tugboats to try to swivel it back around."
[From GQ]
Once you find yourself in Cage-World, you sort of get absorbed in it and you start to understand why he is the way he is and why he's done the things he's done. And to be clear, the GQ piece is littered with his former directors and producers all singing his praises for his talent and his work ethic. He likes working, he just wishes he had more of a choice with great scripts. You even understand his menagerie too – I mean, he loves animals and you can tell that he gets enjoyment from being around his birds, turtles, cats, snakes and all the rest of them. Anyway, maybe Nick Cage is deeply misunderstood.
https://www.instagram.com/p/CbaEUvnOoF-/
Cover & IG courtesy of GQ.
Source: Read Full Article