'Outlander': Can Baby Jemmy Travel to the Future?
Season 5 of Outlander is in full swing. And as viewers saw in the last episode, Stephen Bonnet (Ed Speleers) is back and posing a great danger to Brianna (Sophie Skelton) and her baby. Roger (Richard Rankin) believes the safest place for the family is in the future, but can baby Jemmy travel through the stones?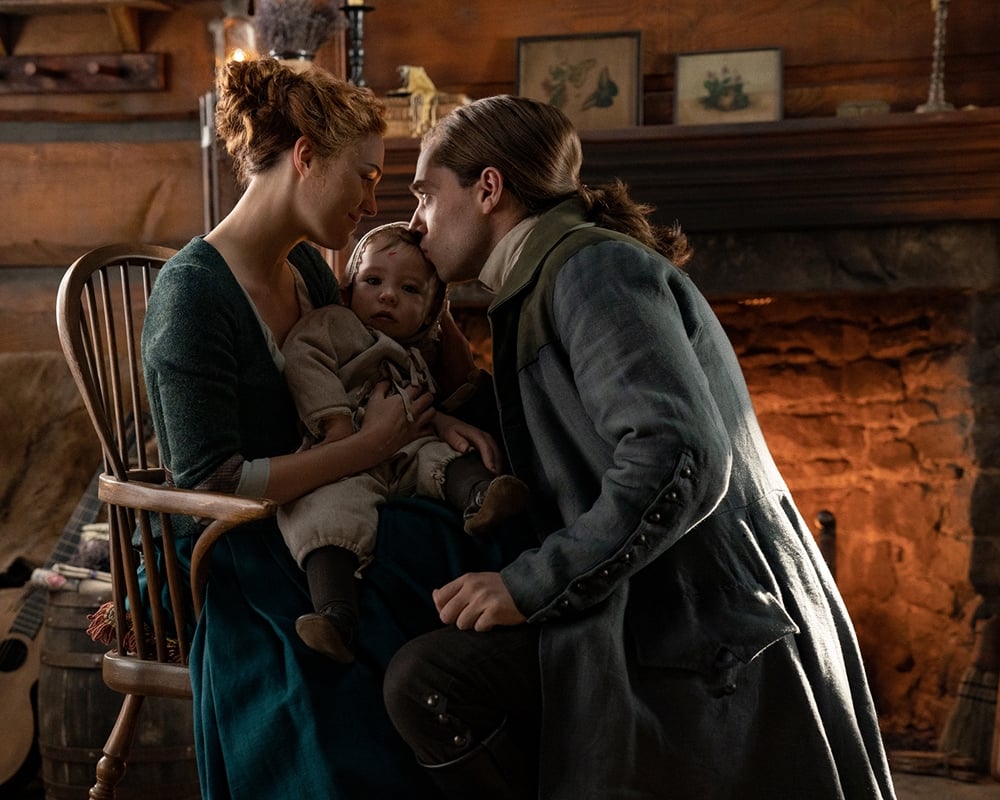 All the people who've time-traveled on 'Outlander' so far
Time travel is at the heart of Outlander, and it plays a crucial part in Jamie (Sam Heughan) and Claire's (Caitriona Balfe) love story. In the first season, Claire touches the stones at Craigh Na Dun and travels 200 years into the past, where she meets Jamie and falls madly in love. By the end of season 2, Claire travels comes back to the future and discovers the same amount of time has passed in both places. 
In the third season, when Claire finds out that Jamie survived the Battle of Culloden, she goes back to the 1700s to find him. Brianna follows her mother, and soon after Roger follows her. Geillis is also revealed as a time traveler who passed through the portal at Craigh Na Dun. 
But the stones in Inverness are not the only ones used for time travel. When Jamie and Claire first move to the Colonies, they find a portal in the Caribbean. When they come to North Carolina, they learn about a Native American man named Otter-Tooth who traveled back had through a nearby stone circle to warn his tribe about the war to come. 
'Outlander' time-travel requires a sacrifice
Passage through the portals requires some sort of sacrifice. When Claire, Brianna, and Roger went through the stone circle at Craigh Na Dun, they all had gems with them that disappeared once they were through.
But Geillis, who had extensively researched how the stones work, believed she needed fire, gemstones, and a blood sacrifice to travel through. She kills her husband near the stones, sets him ablaze, and uses a gemstone to travel into the past. 
Along with the required sacrifice, Outlander time travel can only take place during specific seasons. Claire first passed through the stones around Beltane. Brianna traveled during the Winter Solstice and Roger waited until the Summer Solstice.
Can Jemmy travel through the stones?
Brianna and Roger's new priority is Jemmy. And because he knows the Revolutionary War is coming, Roger wants to take the family to the future where it will be much safer. But Brianna is hesitant for two reasons — she doesn't want to leave her parents, and she's not fully sure Jemmy can travel. 
Outlander author Diana Gabaldon has confirmed that some people, including Jamie, can't travel through the stones no matter what. It's possible only certain DNA can get through. Because Brianna is Claire's daughter, she was able to pass. And because Roger is related to Geillis, he got through as well.
But the question of Jemmy's paternity might be what has Brianna worried. If he is Roger's son, then he should have the DNA of both his parents to time travel. However, if his father is Stephen Bonnet, his chances become questionable.
n Gabaldon's books, Jemmy does travel to the future, but it's not until he's much older. However, the Starz series is slightly different from the novels, so events may not happen exactly the same way. Viewers will just have to wait and watch through the season to see how things unfold.
Source: Read Full Article