Red Hot Chili Peppers Is Bringing Taylor Hawkins' Wife to New Orleans Jazz Festival: 'It's Going to Be a Celebration'
On March 25, music legends Foo Fighters announced the death of their drummer, Taylor Hawkins. Shortly after the group canceled their upcoming tour dates, long-time friends Red Hot Chili Peppers replaced them at the upcoming New Orleans Jazz Festival. However, they won't forget Hawkins during their performance. Chad Smith said Red Hot Chili Peppers is bringing Hawkins' wife Alison, and they plan to celebrate the late drummer.
Red Hot Chili Peppers is bringing Taylor Hawkins' wife to New Orleans Jazz Festival for a celebration of the drummer
The Californication band wouldn't have been able to replace Foo Fighters at this year's New Orleans Jazz Festival without paying tribute to Hawkins. Drummer Chad Smith told Billboard that they have some plans.
Red Hot Chili Peppers is bringing Hakwins' wife Alison to the festival, where they will celebrate the late drummer.
"We're taking Alison, his wife, with us and it's going to be a celebration," Smith said. "That's what she wants. She doesn't want it to be anything other than, 'Let's celebrate music, let's celebrate our friends, let's celebrate Taylor. This is what he would want and he would be very happy that you guys are playing and he would want it to be nothing but a positive experience.'
"So we're going to do all that and she's going to be part of that and I'm very honored that we can do that with her. … We're going to play our hearts out."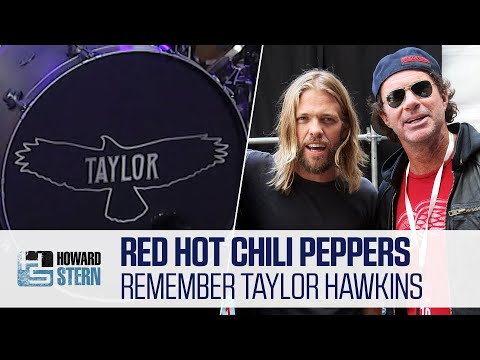 Red Hot Chili Peppers drummer Chad Smith posted a heartbreaking tribute video to Taylor Hawkins
Smith and Hawkins were very close. They cemented their relationship after having a prank war together on tour when Foo Fighters opened for Red Hot Chili Peppers in 1999. Later, Smith and Hawkins became family friends, and Hawkins was even godfather to Smith's son.
Smith was one of the first people to pay tribute to Hawkins following his death. On his Instagram, he posted a heartbreaking tribute video to his friend on April 1.
"His essence of his creative energy is out in another universe somewhere and he was able to express that here in his short life," Smith explained to Billboard.
"Wherever he is, I feel strongly and believe that he is doing his Taylor Hawkins as only he can. He's doing that somewhere else and giving that love and life to everybody wherever he is now that he did here. So that gives me a little bit of comfort, but I miss the f*** out of him."
Foo Fighters have canceled all upcoming tour dates
On March 25, Foo Fighters revealed Hawkins had died.
"The Foo Fighters family is devastated by the tragic and untimely loss of our beloved Taylor Hawkins," the band wrote. "His musical spirit and infectious laughter will live on with all of us forever. Our hearts go out to his wife, children and family, and we ask that their privacy be treated with the utmost respect in this unimaginably difficult time."
Hawkins played with the band days before on the South America leg of their tour. He was found dead in his hotel room in Bogotá, Colombia. Colombian authorities have since released a preliminary toxicology report claiming that Hawkins had 10 substances in his body at the time of his death, including marijuana, opioids, and antidepressants.
Days later, Foo Fighters canceled all their upcoming tour dates.
A statement said, "It is with great sadness that Foo Fighters confirm the cancellation of all upcoming tour dates in light of the staggering loss of our brother Taylor Hawkins.
"We're sorry for and share in the disappointment that we won't be seeing one another as planned. Instead, let's take this time to grieve, to heal, to pull our loved ones close, and to appreciate all the music and memories we've made together.
With Love, Foo Fighters."
Then, Hawkins was honored at the 2022 Grammy Awards. However, Red Hot Chili Peppers' upcoming tribute could resonate with fans more.
Source: Read Full Article