'Sister Wives': Kody Brown Called the Other Brown Adults 'a Bunch of Hypocrites' After Mariah Brown's Engagement
When Meri and Kody Brown's daughter, Mariah Brown, came out as gay in 2016 on TLC's Sister Wives, some fans were surprised to see that the fundamentalist Mormon polygamist family was so supportive of her.
Kody and his four wives, Meri, Janelle, Christine, and Robyn Brown, are all members of the Apostolic United Brethren, a religious sect that disallows same-sex relationships. But they embraced Mariah with open arms and supported her right to be in any kind of relationship she desired.
Still, when Mariah announced her engagement to her longtime girlfriend on the Feb. 9 episode, "An Awkward Valentine's Day," the Sister Wives patriarch wanted Mariah and her fiancée to get married much earlier than they had planned.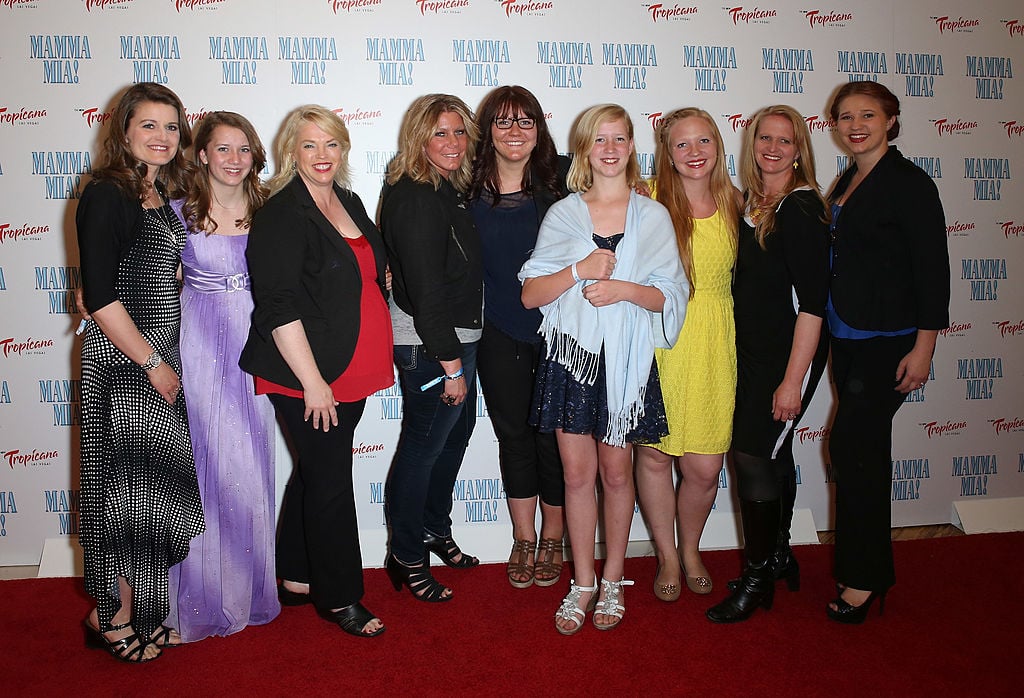 Mariah announced her engagement to her college girlfriend
At Kody's 51st birthday party, which is always a major family event, Mariah dropped the news that she was engaged to her girlfriend of several years, Audrey Kriss.
Audrey and Mariah started dating when they were undergraduates at Westminster College in Utah. After two years together, Audrey moved to Chicago with her girlfriend, who is pursuing a dual master's degree in social work and social justice at Loyola University Chicago.
WhileKody opened his gifts, he mentioned a "growing family."
"Growingfamily?" Mariah asked her father.
"Doyou want it to grow?" the Sister Wives patriarch asked.
"Ido, actually," Mariah announced. "By one."
That'swhen she showed off Audrey's sparkling engagement ring, and the family eruptedin excited screams.
Meri revealed that she hadn't known about Mariah's big news beforehand. "I am so excited," she gushed. "And she is such a stinker, I didn't even get to know anything about it."
The Brown family reflected on Mariah's coming-out announcement
Kodyshared that Mariah came out to the Brown family in the summer of 2016.
Anddespite his religion, Kody spoke for the family in saying, "We have chosen thatwe accept Mariah and her choosing to marry Audrey. We're very happy with it andwe are super excited to see their life together."
TheSister Wives star said they had raised their children not to see same-sexmarriages any differently from heterosexual marriages. "I think our youngerchildren don't even make the distinction," he said.
At Meri's request, Mariah revealed her engagement story. "So we went to the Women's March again, and since that's kind of when we first started dating, I decided it would be really cute if two years later we go back and I ask her to marry me."
The Sister Wives star shared that she pulled Audrey off to the side in the middle of the march for their big moment. "I'm still in shock," Audrey gushed.
Kody wanted Mariah to shorten her engagement to Audrey
While Kody was happy about his daughter's engagement, he admitted he thought it was far too short.
"Whenare you getting married?" he asked Mariah.
"WhenI'm done with school," she replied. "Probably like threeish years."
Buther dad wasn't happy with that answer. "I got a problem with that kind ofdistance," he said. "If you're serious about it, you should just get married. Youreally don't need to wait."
Mariah said she didn't to deal with the stress of school along with the pressure of wedding planning, but her dad shot back, "That's a poor excuse. You should get married within a year."
"Iknow you're excited, Dad," Mariah joked, but Kody persisted. "I guess sixmonths, okay, too soon…nine months?" he asked. And when she said she and Audreyhad known each other for three years and dated for two, he replied, "Okay, so likea six month engagement would be normal after that."
ButKody's wives thought he should lighten up a bit. "Can we just have fun now,please?" Christine asked.
"We'rejust celebrating the engagement, the announcement," Robyn replied.
Kody explained that he got married without knowing his partners for years and didn't understand why they thought they needed so long. "All of the rest of us got married in 15 minutes, okay?" the Sister Wives star said. "A bunch of hypocrites over here."
Source: Read Full Article