There's Just So Much to Unpack About Timothée Chalamet's Lunch Date With Larry David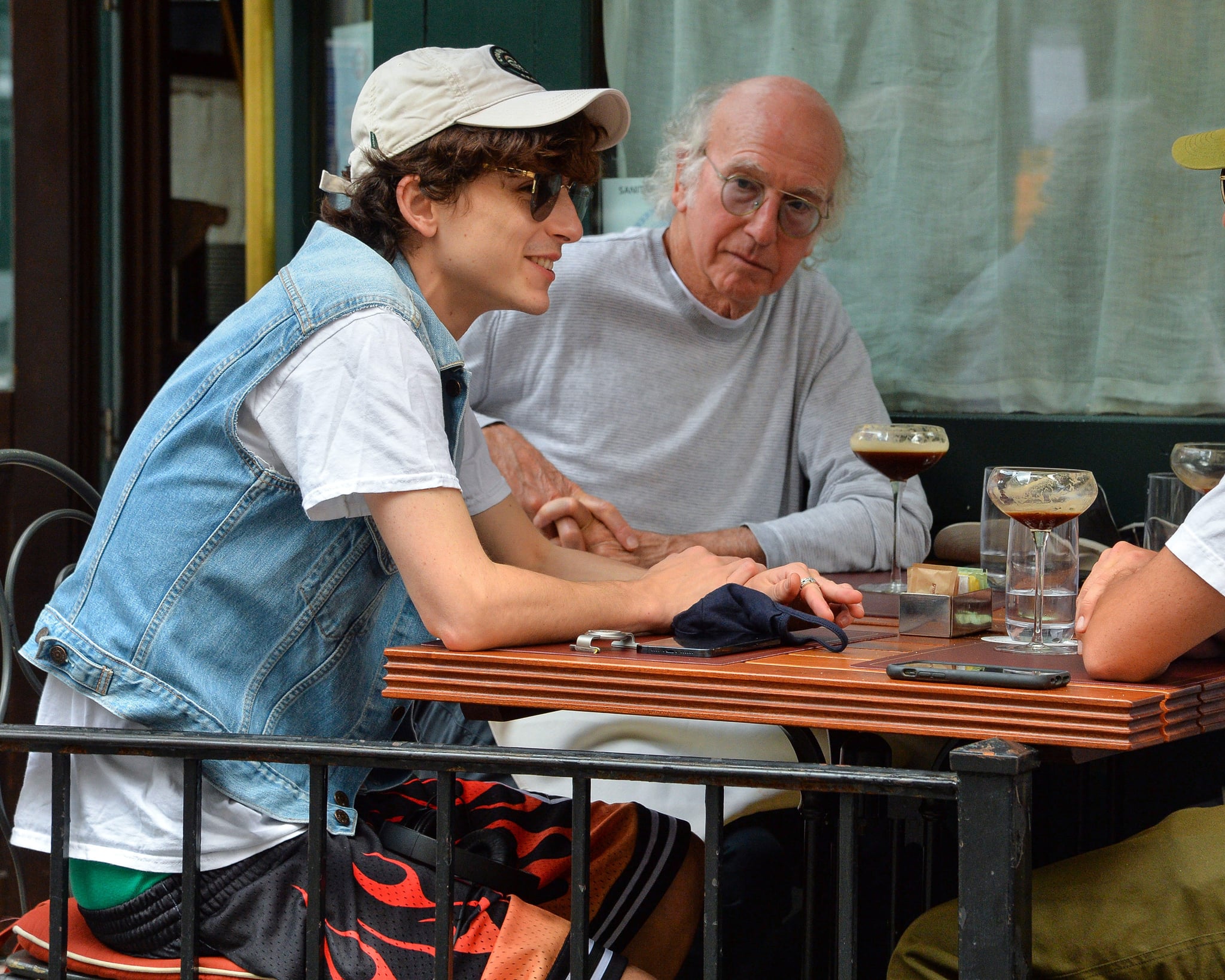 Image Source: The Image Direct
Never have I wanted to be a fly on the wall more than when photos of Timothée Chalamet enjoying lunch with Larry David surfaced. The Dune frontman and the Curb Your Enthusiasm legend were spotted dining at Sant Ambroeus in New York City on Tuesday afternoon — Timmy in a denim vest and flame-adorned basketball shorts, and Larry in a gray long-sleeved tee and his signature Oliver Peoples glasses. Seeing as my invitation for the meetup was tragically sent to the wrong address, I've been left with no choice but to bask in the FOMO and, of course, hypothesize on every detail surrounding their unexpected outing. Some call it overanalyzing celebrity paparazzi photos for no apparent reason; I call it keeping the Timothée Chalamet hive well-fed.
To kick off this unasked-for though imperative deep dive, I must first and foremost ask the burning question on everyone's mind: how on earth do these two know each other? They run in fairly different Hollywood circles, what with their 49-year age gap, so what brought them together, and how long have they secretly been harboring this friendship? My guess is they crossed paths during this past New York Fashion Week sometime before or after Larry sat, with his ears plugged, front row at Staud's runway show. But maybe their bond dates back even further to a previous backstage award-show run-in. According to my internet sleuthing, both were in attendance at the 2018 SAG Awards, so it's entirely possible they're longtime buds.
Next up on this dissertational journey, another pressing inquiry: what were the group chatting about over their midday bites? (Some context: I say "group" because Larry's daughter Romy and a mystery man were seated opposite Timothée and Larry.) Perhaps they were debriefing on the previous evening's Met Gala, sharing their two cents on the various red carpet hits and misses. I wouldn't be surprised if Larry begrudgingly scoped out some coverage of the soirée only to wind up looking at the over-the-top outfits with this facial expression: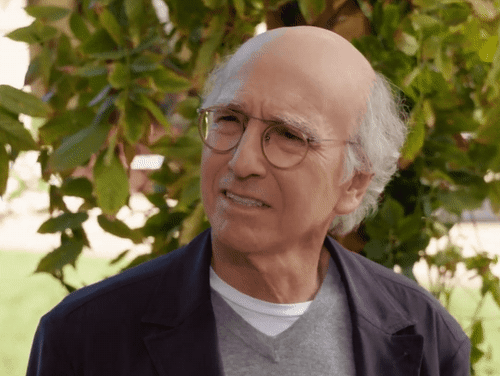 Image Source: HBO via Giphy
But maybe their discussion had nothing to do with glitz, glamor, and fame, and instead, they were just two NYC natives bonding over a mutual disdain for slow walkers, taxi stealers, and F train delays. The convo could've also skewed into a battle of the boroughs — Timothée was born in Manhattan, while Larry is a proud Brooklynite, and I can totally picture them duking it out over which Big Apple neighborhood reigns supreme. I'm also quietly holding out hope that Larry was pitching Timothée his very own Curb cameo, but that's likely just a case of wishful thinking.
Last but most certainly not least on my list of questions: what did they each order for lunch? The curiosity has been eating away at me! As you can see in the above photo, Larry, Romy, and the aforementioned mystery man were each sipping midday espresso martinis, while Timmy's seat at the table lacked one of those fancy coupe glasses. According to other paparazzi snaps of their hangout, Timothée had a regular vodka-less coffee drink (with a brown sugar packet, for any and all interested parties), probably because he was feeling the aftereffects of Kacey Musgraves's Met Gala afterparty.
Source: Read Full Article