Why Brad Pitt and Jennifer Aniston Are Still Everyone's Golden Couple
You're forgiven if you didn't know that they also doled out some awards at the 2020 SAG Awards on Sunday night.
Because if you were just checking Twitter, you may have thought that Brad Pitt and Jennifer Aniston hugging backstage was the main event and the speeches and tributes playing out a few yards away were only so much filler.
It's award season, of course, that has thrown them together most recently, first at the Golden Globes and again at the SAG Awards, where Aniston was a winner for acting in a TV drama for The Morning Show and Pitt picked up another supporting actor trophy for Once Upon a Time..in Hollywood. But we know that they're friends, that Brad was at Jen's 50th birthday party a year ago and made an appearance at her Christmas party last month.
So why the collective swoon on Sunday night? What is it about those two? Aside from the fact that their obvious regard for each other further proves that breaking a person's heart isn't an unforgivable act, that time does funny things to once-gaping wounds, and that the world doesn't care that 15 years have passed since these two split up in devastating fashion?
Well, for starters, has anyone ever noticed how the Internet has made it exponentially harder to let things go?
For instance, when Pitt and Angelina Jolie broke up in 2016, one of the main Twitter takeaways was karma, as Aniston memes proliferated online.
And then any sorrowful tweets posted in February 2018 in response to the news that Aniston and Justin Theroux had separated were instantaneously overwhelmed by a wave of joyous realization that Aniston and Pitt were then free to return to their rightful place by each other's side.
It was understandable. Together they were an honest-to-goodness Hollywood golden couple (not least because of their enviable tans), the head cheerleader and the quarterback, king and queen of the prom. After years of operating in bizarro mode, the world had a chance to right itself.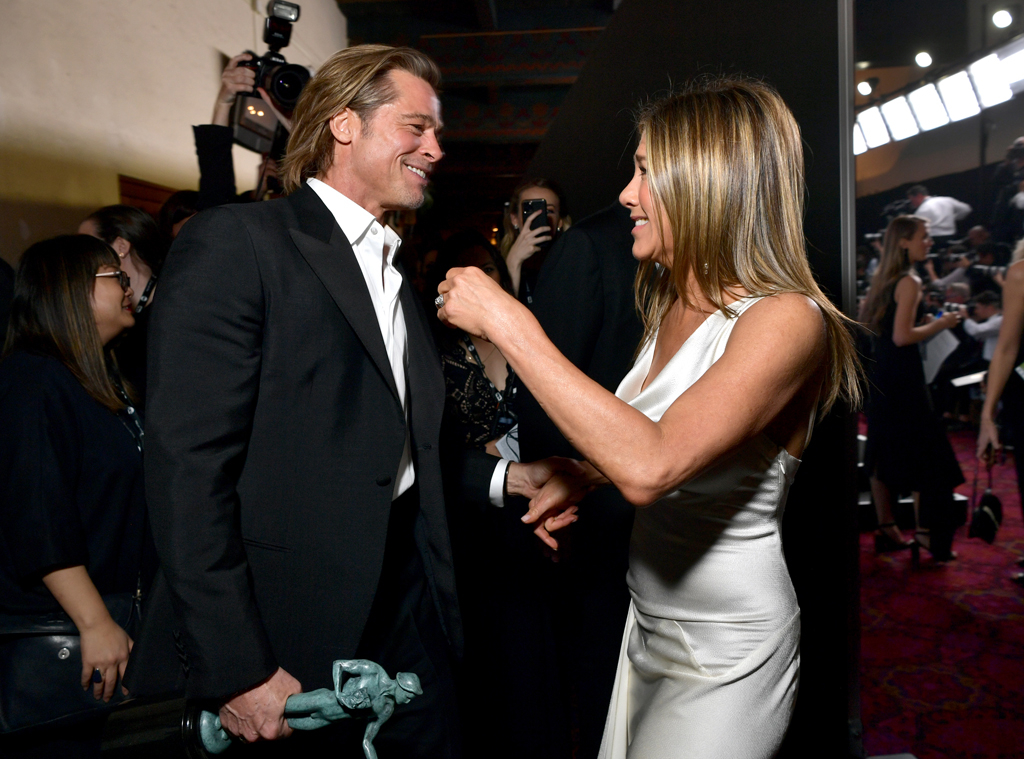 Emma McIntyre/Getty Images for Turner
That would have been nice. The world needs righting. It's just not going to be an Aniston-Pitt reunion that does it, as the fact that we woke up the morning after the SAG Awards to find the world still topsy-turvy has proved.
But we do get why the idea is so desirable. (We'll even do you one better—before Gwyneth Paltrow announced her engagement, to another Brad, we even felt a twinge of possibility that she and Pitt were still meant to be.) When Jennifer Aniston and Brad Pitt got together in 1998, everything was just great. They were two of the biggest deals on the planet. Pitt was a raging heartthrob, and about to kick it up a notch creatively with Fight Club. Friends was on.
We repeat, Friends was still on. Pitt even did a Thanksgiving episode and was nominated for an Emmy.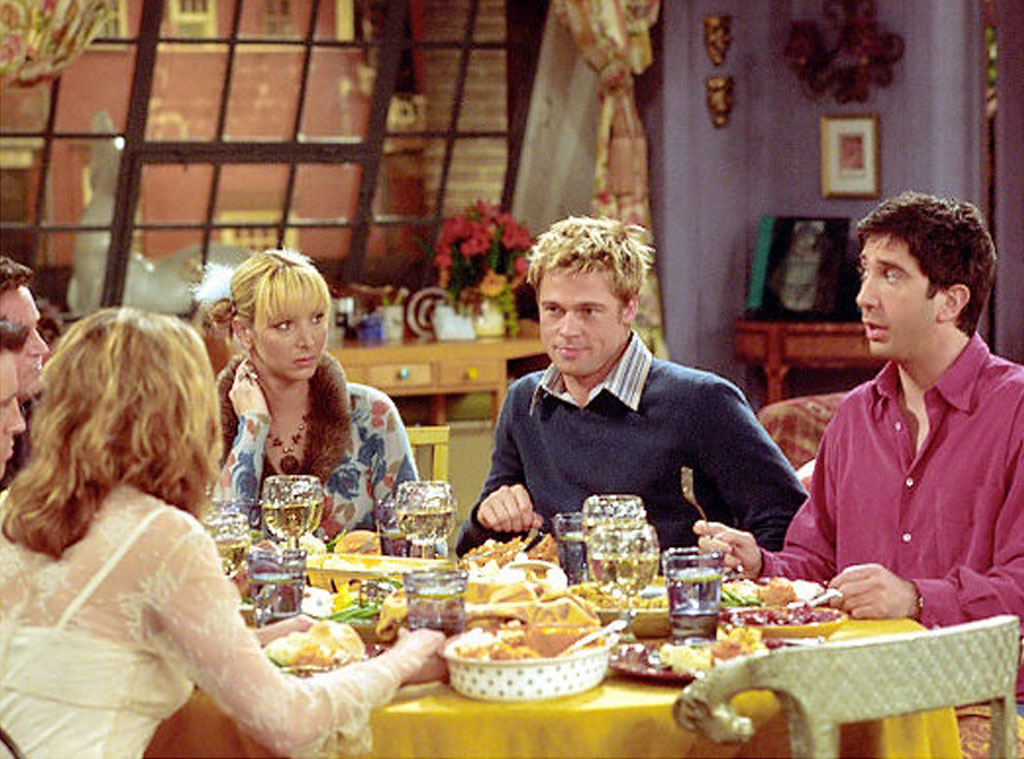 NBC
When their romance first blossomed in the spring of 1998, they bided their time before going public, denying reports when they were still in the getting-to-know-you phase and then taking pains not to be photographed together, even when they arrived at places in the same car. But the sightings were stacking up: date nights at trendy spots in L.A., Friends' 100th episode party that fall, Acapulco for Valentine's Day in 1999 and Jen's 30th birthday.
Aniston would tell Diane Sawyer years later that they both knew, "on our first date" (set up by matchmaking agents), that they would be a thing. "It was weird…That was a really easy evening. It was really fun."
"Jennifer's a lot more peaceful now, like a woman who's in a good relationship," Lisa Kudrow told Rolling Stone (which noted a framed photo of Pitt in silhouette sitting in Aniston's L.A. home office, and then a relaxed, laughing Pitt on her coffee table) in March 1999. "There's not a lot to say about them because there's no problems. They're both light-years ahead of themselves. You know how your grandparents have a certain perspective about life? They've got that now."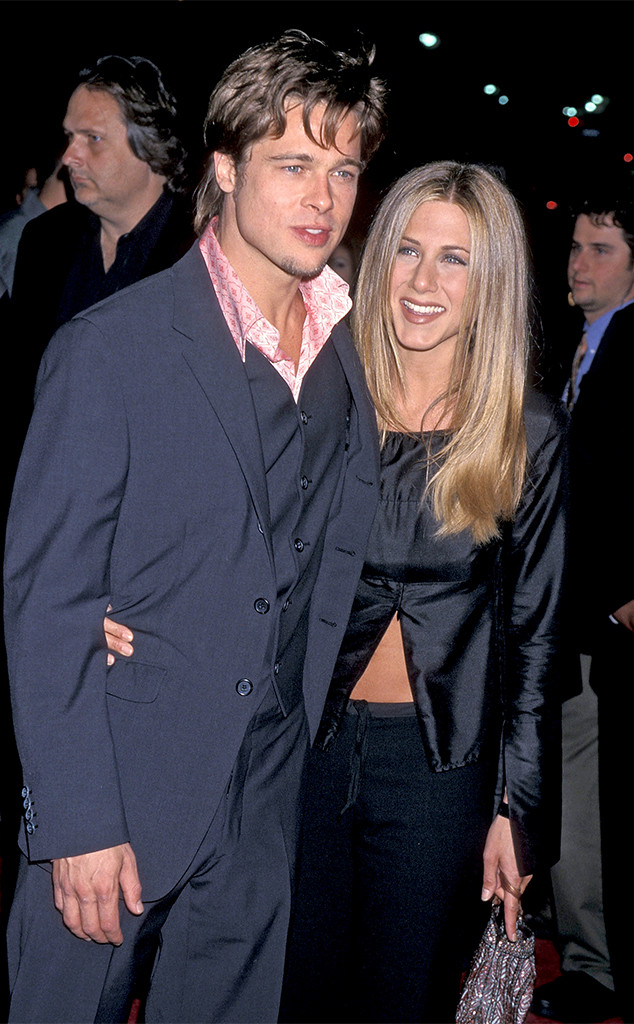 Ron Galella, Ltd./WireImage
Considering their attempt at a low-key beginning, it was no wonder that they did not share that they were engaged and then, when they did get married on July 29, 2000, security was all-consuming. The guests, even Cameron Diaz and the cast of Friends, had to wear special pins to get past the guards at the private Malibu estate where they swapped vows at sunset overlooking the Pacific Ocean.
Aniston wore a beaded gown by Lawrence Steele and Pitt dressed in a Hedi Slimane tuxedo. They released one official, black-and-white photo of themselves on their wedding day for all of the world to fawn over.
"I had those typical jitters the day before my wedding," Aniston recalled to Rolling Stone in September 2001, "but the day of, I was just excited in a good way. The nice thing about weddings now is it's not just a chick thing. It's a team effort. The stereotype used to be men grumbling, like, 'Why are you making me do this?' There's nothing more moving than seeing a man cry at his own wedding.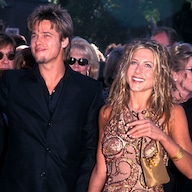 Photos
Jennifer Aniston and Brad Pitt's Quotes About Each Other
That summer, they celebrated their first wedding anniversary and moved into a $15 million home in Beverly Hills. In November 2001, seeking to round out their already illustrious careers, they also teamed up with talent agent Brad Grey to form Plan B Entertainment, which in recent years (with only Pitt remaining from the original trio) was behind Best Picture Oscar winners 12 Years a Slave and Moonlight. Pitt had a reported $20 million-per-movie price tag. In 2002, Aniston would be part of the historic negotiations that netted all six Friends co-stars $1 million per episode.
There was nothing not powerful about the couple that were Brad Pitt and Jennifer Aniston.
But are two sides to every story.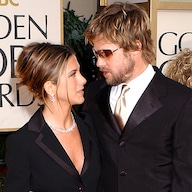 Photos
Brad Pitt and Jennifer Aniston Attended the 2002 Golden Globes Together: Look Back at the Photos
That emotional reckoning that Aniston said was occurring at the time sounds necessary and replenishing, but apparently Pitt wasn't feeling the benefits on his end.
"I spent the '90s trying to hide out, trying to duck the full celebrity cacophony. I started to get sick of myself sitting on a couch, holding a joint, hiding out. It started feeling pathetic," Pitt told Parade in 2011 in an interview that would net him all sorts of grief. "It became very clear to me that I was intent on trying to find a movie about an interesting life, but I wasn't living an interesting life myself. I think that my marriage had something to do with it. Trying to pretend the marriage was something that it wasn't."
Urged to explain himself, Pitt said in a statement to E! News afterward, "It grieves me that this was interpreted this way [as a slam at Aniston]. Jen is an incredibly giving, loving, and hilarious woman who remains my friend. It is an important relationship I value greatly. The point I was trying to make is not that Jen was dull, but that I was becoming dull to myself—and that, I am responsible for."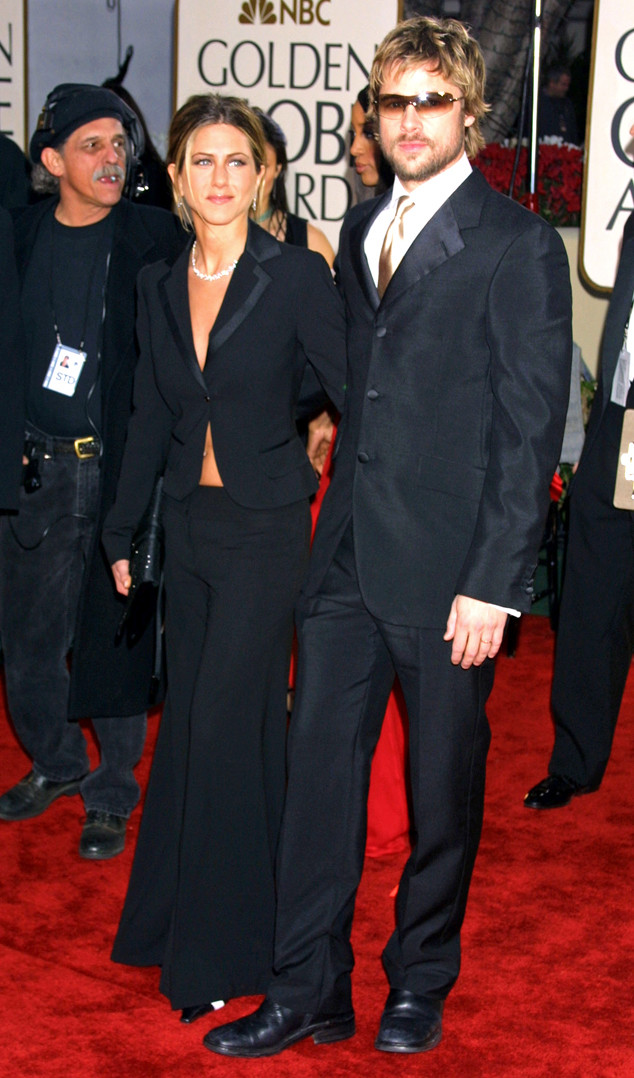 Jeffrey Mayer/WireImage
Pitt then told Esquire in 2013 that "about a decade ago," after spending his life as the kind of guy who can't finish things, that he had an "epiphany—a decision not to squander my opportunities. It was a feeling of get up. Because otherwise, what's the point?"
Well, he would indeed get up.
The years of 2004 and 2005 comprised this strange blur of "what was happening and when?" Does Pitt know how many years are in a decade?
In 2003, Aniston and Pitt had added a sprawling Santa Barbara estate to their real estate portfolio ("Brad's a land man," she told W. "He wants land, land, land)" and they were still renovating their Beverly Hills home, with architecture aficionado Pitt leading the way aesthetically.
"We do fight," she told W in February 2003, describing herself as a "conflict avoider." "Well, we have discussions. I am not a fan of fighting when it is screaming. I like accomplishing something. But I don't trust a couple that says they don't fight."
Aniston also said, somewhat cagily, when asked if Pitt was the love of her life: "Is he the love of my life? I think you're always sort of wondering, 'Are you the love of my life?' I mean, I don't know, I've never been someone who says, 'He's the love of my life.' He's certainly a big love in my life.
"I know that we have something special, especially in all this chaos. In this nutty, brilliant, wonderful, hard business that we have, it's nice to have somebody who's anchored and knows you, really knows all of you."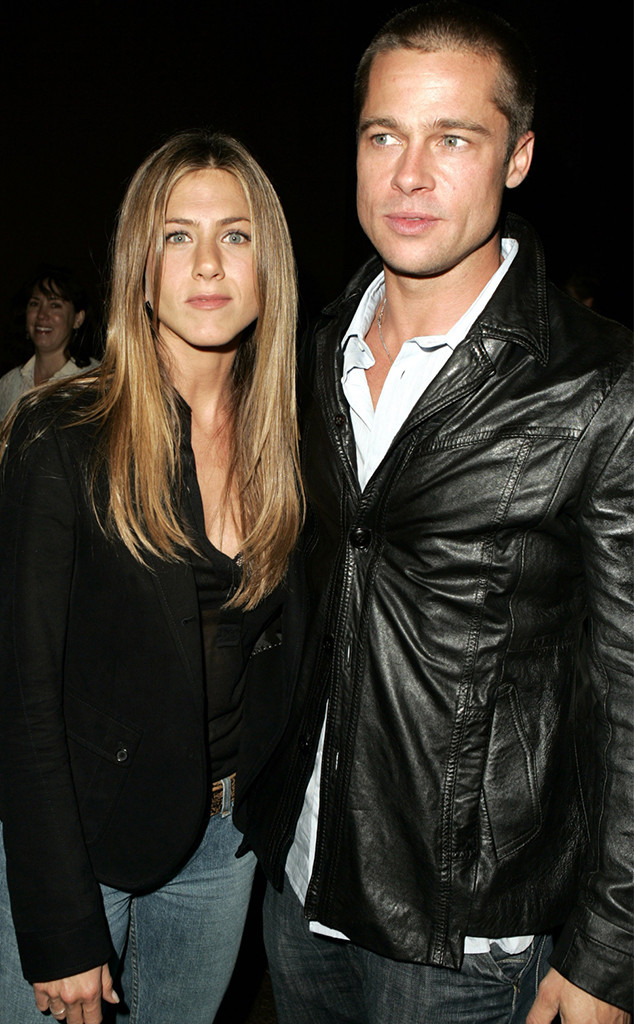 Jeff Vespa/WireImage
In January 2004, she said on Primetime with ABC News' Diane Sawyer that Pitt had helped teach her the merits of forgiveness, namely with regard to her ongoing estrangement from her mother, who had written a tell-all book about the family and who did not get an invitation to her daughter's wedding.
"One thing Brad would always say to me, 'you know what, we're just going to do the best we can." At the time, she was also saying her plan was to have a baby after Friends wrapped its 10-year run that year.
Aniston even spoofed the rabid interest by playing a paparazzo who can't stop shouting "when are you gonna have a baby?!" at a star on the red carpet during a Saturday Night Live sketch. But all those headlines were exhausting.
Asked about that 2003 W interview, particularly the part where the writer noted that she paused when asked if Pitt was the love of her life, Aniston said she hated reading that.
"I can't imagine being with any other human being. I married him because he was the love of my life," she told Sawyer. "And you know, he's the most fun I've ever had. So when these things are written in magazines and taken out of context, it's so frustrating because people then take it and run with it…Jesus, we were divorced and moving into different homes."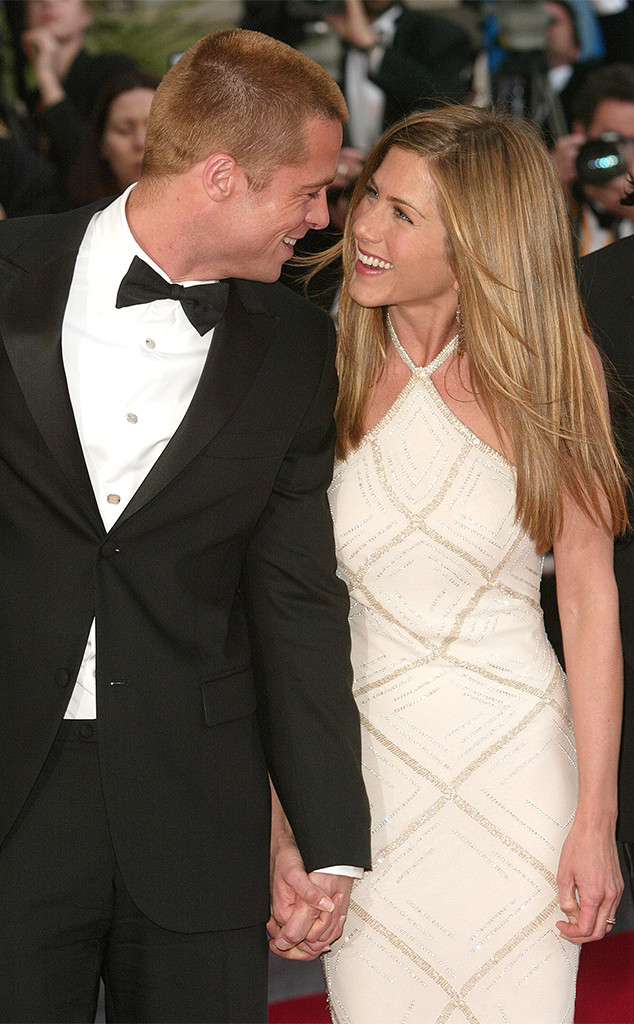 Evan Agostini/Getty Images
Fair enough. But some headlines are true.
Aniston and Pitt's appearance that May at the 2004 Cannes Film Festival was a moment to remember. One of the last pretty ones, in fact.
Earlier that year, filming had started on Mr. and Mrs. Smith, which was originally supposed to star Pitt and Nicole Kidmanbefore the Australian star had to drop out and was replaced by Angelina Jolie.
"I didn't know much about exactly where Brad was in his personal life," Jolie later said in the January 2007 issue of Vogue. "But it was clear he was with his best friend, someone he loves and respects. And so we were both living, I suppose, very full lives…I think we were the last two people who were looking for a relationship. I certainly wasn't. I was quite content to be a single mom."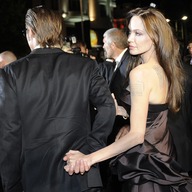 Read
Angelina Jolie Turned Out to Be Human: The Glorification of Brangelina and the Days of Baiting Jennifer Aniston Are Over
Jolie continued, in an interview that Aniston would later deem "uncool" (also to Vogue): "Because of the film, we ended up being brought together to do all these crazy things, and I think we found this strange friendship and partnership that kind of just suddenly happened. I think a few months in I realized, 'God, I can't wait to get to work.'…Anything we had to do with each other, we just found a lot of joy in it together and a lot of real teamwork. We just became kind of a pair."
"It took until, really, the end of the shoot for us, I think, to realize that it might mean something more than we'd earlier allowed ourselves to believe. And both knowing that the reality of that was a big thing, something that was going to take a lot of serious consideration."
Mm…hmm.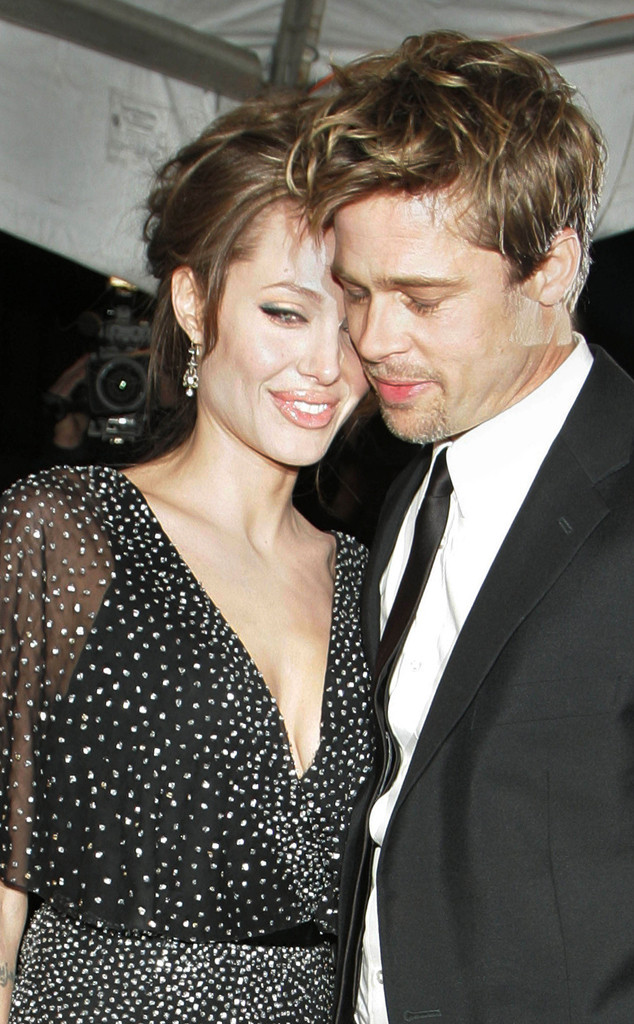 Star Max via AP Images
Though Jolie would later say that, by way of Mr. and Mrs. Smith, their kids had a unique opportunity to watch their parents fall in love, the actress told Vogue in 2007 that she and Pitt remained "very, very good friends" until after he was separated.
After living through almost an entire year being burned by headlines that their breakup was imminent, Aniston and Pitt went to Anguilla for New Year's for what turned into their last beachside hurrah, a seeming show of tabloid defiance that's only remembered now for how anachronistic it was. (And it's all the weirder knowing now that Aniston and Theroux's New Year's last hurrah in Cabo in January 2018 coincided with their breakup.)
A week later, on Jan. 7, 2005, Pitt and Aniston released a joint statement: "We would like to announce that after seven years together we have decided to formally separate. For those who follow these sorts of things, we would like to explain that our separation is not the result of any of the speculation reported by the tabloid media. This decision is the result of much thoughtful consideration. We happily remain committed and caring friends with great love and admiration for one another. We ask in advance for your kindness and sensitivity in the coming months."
By that summer Pitt was going to Ethiopia with Jolie to be there when she adopted daughter Zahara, so between that and their absurdly timed domestic W shoot, all had been revealed in his corner.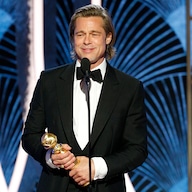 Photos
Brad Pitt's Quotes About Addiction and Sobriety
And yet, not all was revealed. Aniston told Vogue after Jolie's eyebrow-raising interview a couple years later, "There was stuff printed there that was definitely from a time when I was unaware that it was happening. I felt those details were a little inappropriate to discuss…That stuff about how she couldn't wait to get to work every day? That was really uncool."
This revisiting of what happened continued for years (see: Pitt in 2011 and 2013, the Rachel Green memes when Jolie filed for divorce, etc.) and, who knew, was apparently primed for a full-fledged comeback in 2018.
But hopefully we've also just explained why talk of a Brad-and-Jen renaissance should remain so much talk, no matter how friendly they are now, regardless of how it looks when two people, fresh from winning awards, take a moment to heartily congratulate each other.
People flipped out when Brad and Angelina broke up. And this, too, shall pass.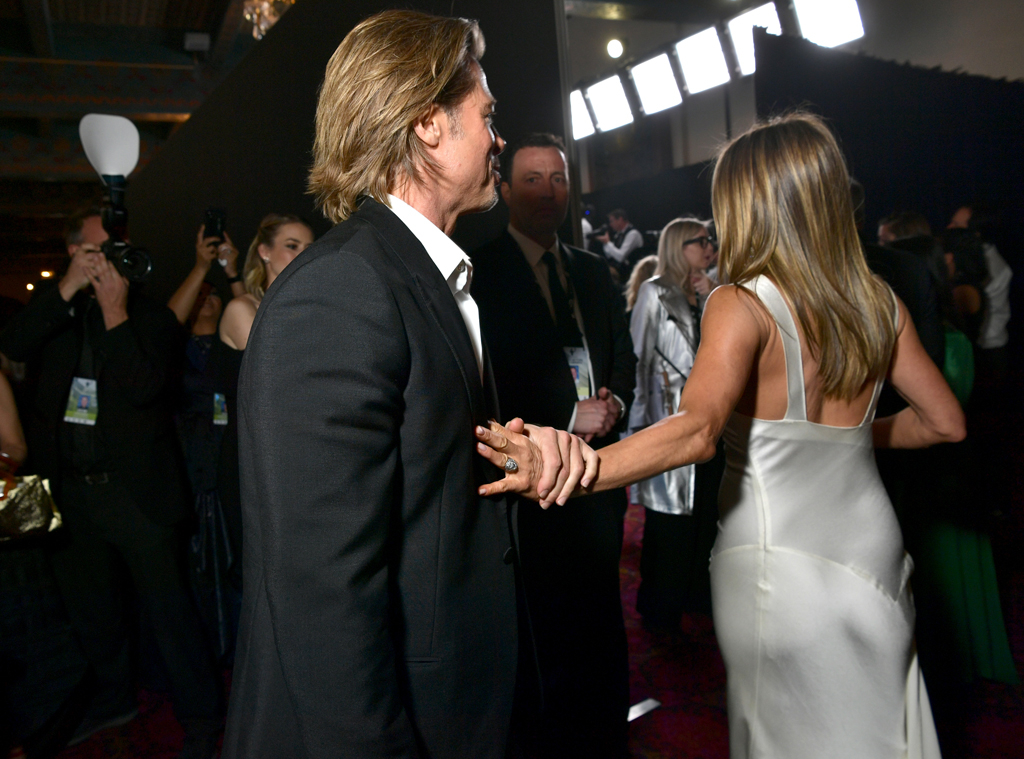 Emma McIntyre/Getty Images for Turner
"We're not in daily communication," Aniston told The Hollywood Reporter for its Jan. 30, 2015, issue. "But we wish nothing but wonderful things for each other. Nobody did anything wrong. You know what I mean? It was just like, sometimes things [happen]. If the world only could just stop with the stupid, soap-opera bulls–t. There's no story. I mean, at this point it's starting to become—please, give more credit to these human beings."
Could you imagine the level of soap-opera drama that would arise now? (Here's an idea: there wasn't even any Twitter when they broke up the first time.)
E! News learned in March 2017, as Pitt's surprisingly contentious divorce proceedings continued to make headlines, that he and Aniston had maintained a "friendly, but limited relationship."
Which actually seemed like something we wouldn't have predicted back in 2005, when Aniston would intermittently burst into tears as she was telling Vanity Fair about the collapse of her marriage.
"The world was shocked, and I was shocked," she said.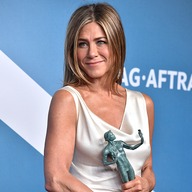 Photos
Jennifer Aniston: Queen of the 2020 SAG Awards
The only thing more shocking would be those two getting back together now, 15 years after they separated for reasons beyond Aniston's control.
"They do text from time to time and have exchanged a few words over the years, but there's nothing beyond that at this point," a source told E! News in the wake of Aniston and Theroux's separation. "She wishes Brad well, but that was a lifetime ago and they were both very different people back then."
Face it, most of us are all very different people now, which is probably why so many relish the act of wanting something that makes them feel like their old selves. We understand that nothing sounds more appealing these days than revisiting a simpler time, but let's not forget it was not a simpler time for Jen and Brad.
"The past is a long time in the past," a source said after Aniston hosted Pitt at her Christmas party, an early present for all of us. "They don't talk often but when they do its very warm and positive. It's not as big of a deal to them as it is to everyone around them. There are no issues with being in the same place at the same time."
(Originally published Feb. 16, 2018, at 12:37 p.m. PT)
Source: Read Full Article