Why Olympian Allyson Felix Claims Nike Was Disrespectful
Six-time Olympic gold-winning sprinter Allyson Felix joins the list of people who have called out Nike this year, per a July TIME profile. After Kobe Bryant's 18-year-long contract with the sports apparel company ended earlier this year, his wife Vanessa Bryant accused the corporation in June of selling his Kobe 6 Protro "Mambacita" sneaker despite their agreement to temporarily shelf it, per Input. Nike was also dragged into rapper Lil Nas X's "Satan shoes" controversy, after the rapper partnered with MSCHF to create a modified Nike sneaker collection dubbed "Satan Shoes." As MSCHF told NBC News, the shoes "contain a drop of human blood in the sole," which Nike vehemently denied involvement in via their temporary restraining order (via The Hollywood Reporter) claiming "some consumers are saying they will never buy Nike shoes ever again." 
Felix, who developed preeclampsia in late 2018 and gave birth to her daughter Camryn prematurely, accused Nike, her longtime sponsor in a New York Times op-ed in 2019 of shorting her and other pregnant athletes during contract negotiations. Shortly after, the athlete signed with female-centric apparel brand Athleta and developed her own shoe and lifestyle label called Saysh. Now in July, Felix has come out swinging at the corporate sports giant again. Here's why. 
Is Nike being hypocritical in their treatment of pregnant athletes?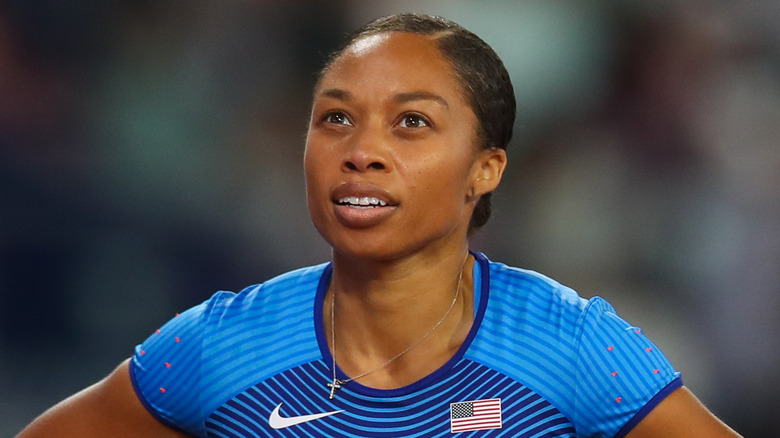 Speaking to TIME on July 8, Allyson Felix said "my stomach dropped" when Nike refused to add contractual protection for pregnant athletes in a 2019 negotiation as the company asked her to partake in their ad campaign "celebrating female empowerment." Felix told TIME, "I was like, this is just beyond disrespectful and tone-deaf." 
Felix thought Nike wanted to publicly project a message of supporting women in sports while inhibiting their rights to be working mothers. During the 2019 contract negotiation, per the outlet, Felix and Nike agreed to not reduce her pay for one year following daughter Camryn's 2018 birth. However, the corporation refused to add a contractual stipulation that this was related to her maternity. Felix interpreted this as Nike wishing to discourage female athletes from starting their own families, leading her to speak out in her bold 2019 New York Times op-ed on the matter. 
"You need to make sure you don't say too much. It has to be this pretty, pretty package. That's always been in the back of my head," Felix told TIME. "And that's not real," adding that "Nike sometimes, they feel like you don't have another option. So they can get away with stuff like that because, where are you going to go?" For their part, Nike told TIME that "we're always learning and growing in how to best support our female athletes." 
Source: Read Full Article